Feature
Across The Universe
---
From visionary director Luc Besson comes an adventure that has to be seen to be believed. A universe without boundaries needs heroes without limits to combat a dark and deadly threat hell-bent on destruction.
Article Published on 31.07.2017
Based on the ground-breaking graphic novel Valérian and Laureline, Valerian And The City Of A Thousand Planets is a sci-fi action-adventure that has its sights set on becoming this summer's most epic journey to the stars.
From celebrated French director Luc Besson comes a truly out-of-this-world vision of life in the 28th century. Expect technological marvels, supercharged neon vistas, strange and alien faces, and forces far greater than Earth has ever known. Sights beyond your wildest imagination await.
While Valerian has proven to be a lifetime in the making for Besson, the sci-fi auteur's filmography has undoubtedly helped define the genre. With films such as Nikita, The Fifth Element, and Lucy, cinemagoers have been transported into unique visions of Earth and beyond. Valerian, however, promises to be his most mesmerising and mythological effort yet. With a proposed budget of €197 million, it's the costliest French feature film to ever grace cinema screens, and arguably the most ambitious. Since its original publication back in 1967, Valérian and Laureline has shaped the work of several high-profile artists, writers and filmmakers, yet due to the comic series' grand scale and nuanced lore, never before has a direct adaptation been undertaken...until now.
In the 28th century, mankind has spread throughout the universe. Special operatives are tasked with maintaining order within the human territories, two being Valerian (Dane DeHaan) and Laureline (Cara Delevingne). Their next mission lies within the heart of Alpha, a diverse and vibrant metropolis shaped by the convergence of countless species. Knowledge, intelligence, and contrasting cultures shape and drive the city forward. Yet despite the peaceful surface, a dark and destructive mystery threatens to tear the City of a Thousand Planets apart – and so begins a race against time. Valerian and Laureline must identify the threat within and strike first. If they fail, not only will the wonders of Alpha crumble to rubble, but the universe will be thrown into a bleak and despairing future.
Alongside a dramatic narrative, Besson's striking visual flair is once again on display. This time however, the spectacle is far greater than ever before. Prepare to journey from tightly-packed space flotillas to sprawling landscapes of sand, fire, and flora. Robotic bodies whir through towering electronic archives, and humungous snarling beasts rip through ancient forests and course through vast, unexplored waterways. Gear up to traverse the universe and its many contrasting planets. Besson's fondness for ass-kicking action clearly hasn't faded, either. Fists will fly and weapons will be drawn as our heroes desperately strive to uncover the marauding forces which threaten their existence.
With a truly unique all-star cast, a visionary director, and beloved and inspired source material rich with wonder, Valerian And The City Of A Thousand Planets has all the materials necessary to forge a space opera that won't soon be forgotten. Its name may not carry the same sci-fi clout as mega franchises such as the Star Wars and Star Trek sagas, but Besson is looking to make a sudden and forceful impact. When the dust settles will the journey have been as exciting and astonishing as promised? There's only one way to find out.
A Celestial Cast
Valerian
Strong, brave, and loyal, Valerian is a kind-hearted and formidable warrior often confronted with insurmountable odds. His goal is to ascend the military ladder, but will his loyalty to his superiors be his downfall?
Laureline
Determined and highly intelligent, Laureline has been alongside Valerian for two years. The pair are one of the most respected partnerships in the army, with a 100% mission success rate. Will they finally fall from grace?
Bubble
Played by pop sensation Rihanna, Bubble is a shapeshifting entertainer whose unique power may well prove invaluable when trying to infiltrate the darkness spreading throughout Alpha.
Commander Arün Filitt
Clive Owen stars as Valerian and Laureline's commanding officer. The strong and dedicated leader's guidance has often proved invaluable.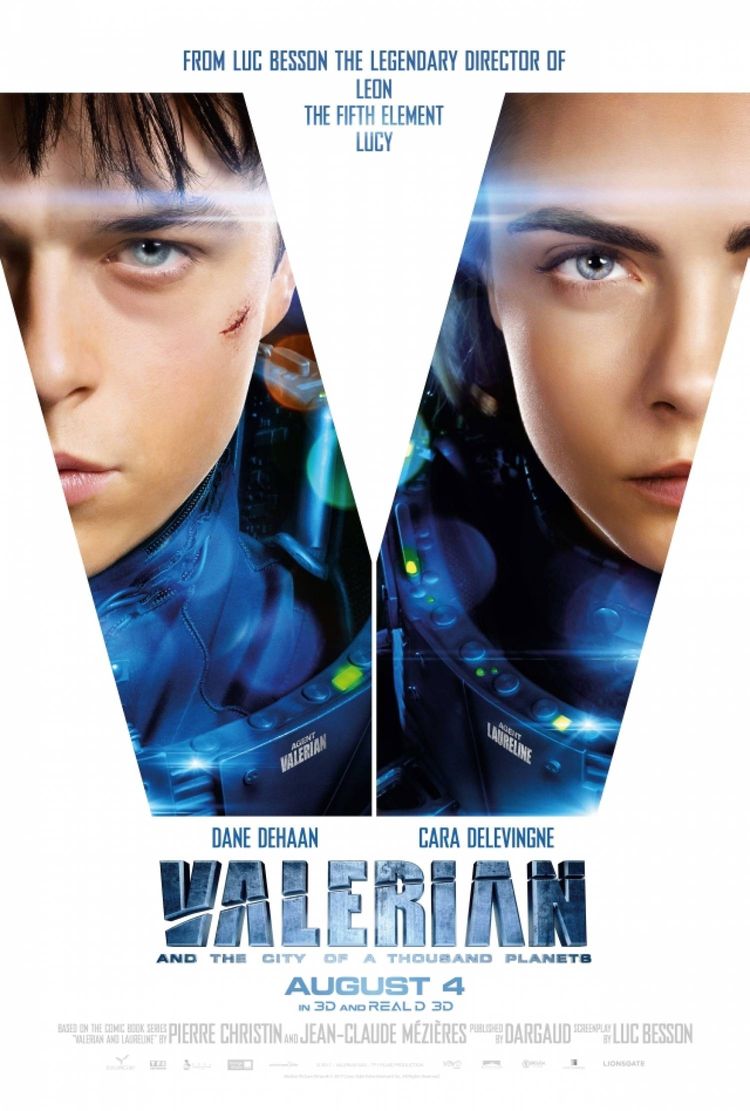 Valerian And The City Of A Thousand Planets
A universe without limits needs heroes without boundaries.
CLICK TO FIND OUT MORE
12A