Feature
Gotta Go Fast (Again!)
---
Everybody's favourite blue blur is called back into action when Dr Robotnik returns. But this time, everyone's upping their game as Tails and Knuckles enter the chaos.
Article Published on 04.02.2022
Words Aaron Potter
Against all expectations, Sonic The Hedgehog broke the video game movie curse and ended up winning as big at the box office as it did with audiences. It's no surprise, therefore, to see Sega's speedy hedgehog rush in for another race against time. Only now, he isn't alone.
Sonic The Hedgehog 2 marks the first true cinematic appearance of Miles "Tails" Prower, Sonic's equally-iconic fox buddy whose ability to fly should help them get the drop on Robotnik. Together, they embark on a globe-trotting adventure in an attempt to keep the incredibly dangerous Chaos Emerald out of their arch nemesis' hands. Unfortunately, Jim Carrey's Robotnik is meaner, madder, and more moustachioed than ever, and also armed with an ally of his own. Another classic Sonic character comes to life as Knuckles the Echidna smashes in with a hard-edged attitude and powerful punch.
Jeff Fowler resumes directorial duties and is joined by returning human cast members James Marsden and Tika Sumpter, with Ben Schwartz again bringing his wise-cracking wit as the voice of Sonic. The most notable new addition is Idris Elba, whose menacing gravitas is a perfect match for Knuckles' imposing threat.
Get ready to take antics and adventure to the next level.
Sega Stars
Sonic
Species: Hedgehog
Voice: Ben Schwartz
Abilities: Super speed, wisecracking attitude
Fun Fact: Sonic's top speed has been recorded at 767 mph.
Tails
Species: Fox
Voice: Colleen O'Shaughnessey
Abilities: Twin tails that allow flight when spun, IQ of 300
Fun Fact: Tails' real name is a pun on "miles per hour".
Knuckles
Species: Echidna
Voice: Idris Elba
Abilties: Superstrength, maximised physical durability
Fun Fact: The pointy spikes located on Knuckles' knuckles makes climbing over vertical surfaces a breeze.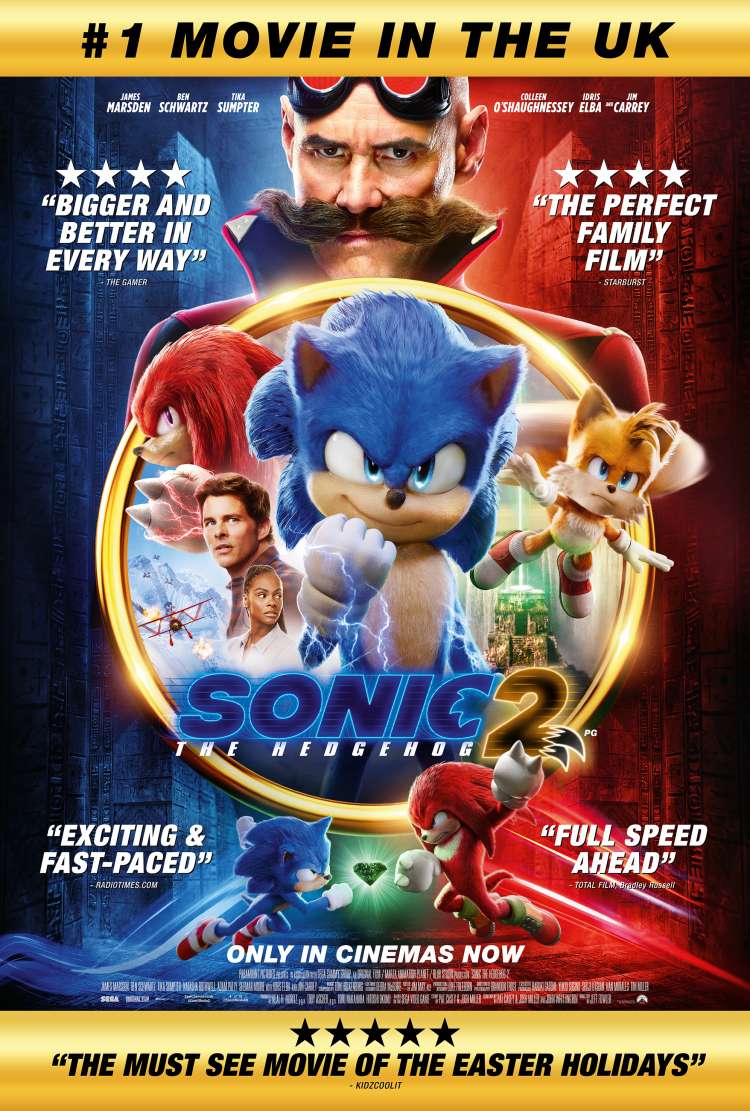 Sonic The Hedgehog 2
CLICK TO FIND OUT MORE
CLICK TO FIND OUT MORE
PG