Feature
Playtime Is Over
---
The Templeton brothers are back together at last, but there isn't time for fun and games, there's a new Boss Baby in town and she means business!
Article Published on 16.08.2021
Words Adam Matulewicz
A lot as changed since we last saw the Templeton brothers together. They've grown up and apart. Tim is now a married stay-at-home dad and Theodore is a successful hedge fund CEO – it's fair to say their lives have led them down very different paths. That's until a new Boss Baby emerges and brings them both into the family business!
In what turns out to be an action-packed reunion for the Templeton bros, Tim's new baby daughter Tina turns out to be the brand-new Boss Baby. As a top-secret agent at Baby Corp, Tina is on a mission to bring down the evil Dr Edwin Armstrong. Her back up? Her dad and uncle as their baby selves, thanks to an all-new formula that can turn fully-grown adults back into babies for forty-eight hours. Get ready for more tantrums, bickering, and childish chaos as the brothers are forced to work together as they race against time to help Tina.
Alec Baldwin is back in the baby suit and he's joined by James Marsden as his big brother, Tim; Eva Longoria as Tim's wife, Carol; Ariana Greenblatt as their seven-year-old daughter, Tabitha; and Amy Sedaris as Tina. Jeff Goldblum rounds out an exciting voice cast as Dr Edwin Armstrong, the strange headmaster of Tabitha's school who's definitely up to no good and who the Templeton trio set out to stop in this sequel that promises another perfect family trip to the cinema.
Meet The Infantry
Theodore
Better known as Ted, the blonde-haired and sharply-dressed boy we met four years ago has grown up from Boss Baby to boss adult. How will he cope with being the assistant to the boss in his return to Baby Corp?
Tim
Ted's long-suffering older brother must put aside his sibling rivalry for a second time in order to help his baby bro and Boss Baby daughter on their dangerous mission.
Tina
The new Boss Baby and Baby Corp's best agent. Tina is on a top-secret mission to uncover the dark secrets of her sister's school and its founder, the oh-so-strange Dr Edwin Armstrong. But to get to him, she will have to face evil babies, creepy babies, jailyard babies, and an army of ninja babies.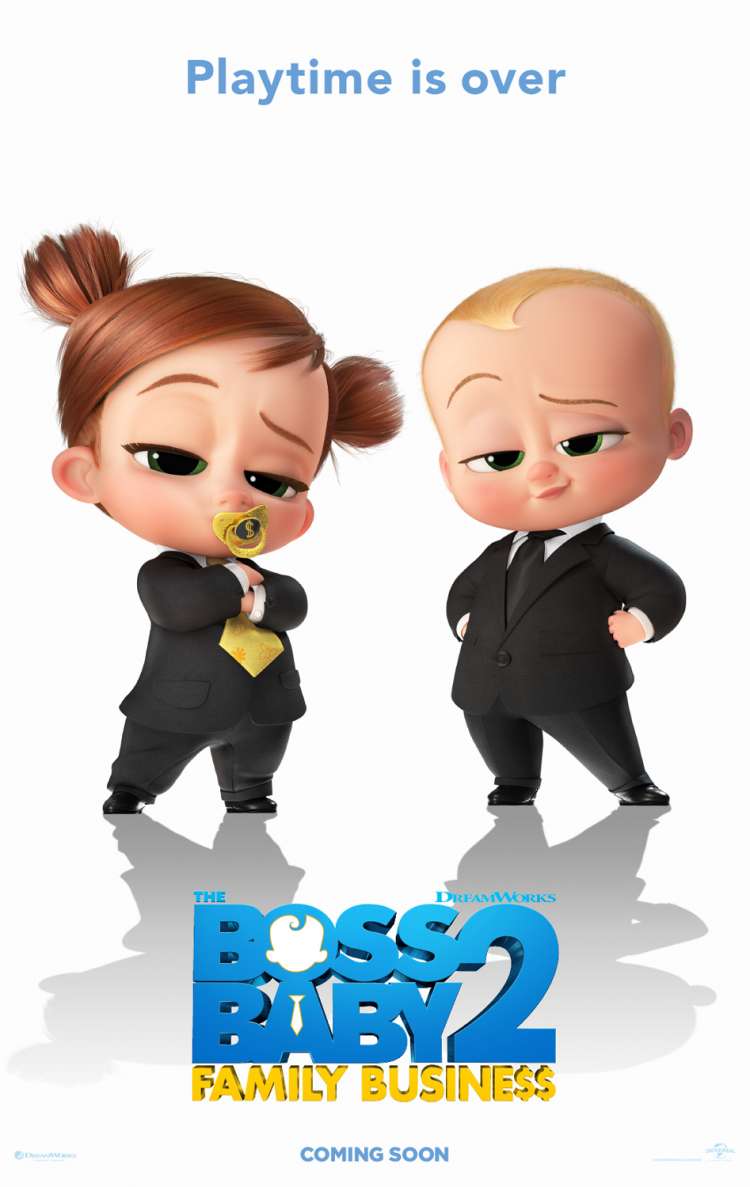 The Boss Baby 2: Family Business
Playtime Is Over
CLICK TO FIND OUT MORE
PG