Feature
The Bear Is Back In Town
---
Paddington's exploits have taken him around the world, but he'll face his greatest challenge in his new home. Adventure, mystery, and a unique cast of characters await.
Article Published on 06.11.2017
Paddington is back! Following his triumphant return to screens, the beloved bear has once again decided to button up, don his hat and wellingtons, and pack some marmalade sandwiches for his next adventure.
After dodging the evil intentions of Milicent Clyde and remaining unstuffed, the rare Peruvian bear has settled down with the Brown family in Windsor Gardens. Taken in by the local community, Paddington has become something of a local celebrity, much to the chagrin of former local celebrity, Phoenix Buchanan (Hugh Grant). Following his fall from grace, the leading man's vanity and fondness for the finer things in life has resulted in him becoming a struggling artist. However, a dark secret may well help the master of disguise discover a new fortune.
What lengths will he go to as a means of sustaining his decadent lifestyle?
After stumbling across a beautifully illustrated pop-up book in Mr Gruber's antique shop, Paddington decides the dusty guide to London would be the perfect present for his Aunt Lucy's 100th birthday. He sets about raising the funds by completing a series of odd jobs for his neighbours... with hilarious consequences. Unfortunately, before Paddington has time to save up the pennies and pounds to purchase the pressie, a thief smashes the shop's window and steals it before Paddington's very eyes.
It's up to Paddington and the Browns to track down and unmask the thief. Nevertheless, they'll have to solve a series of mysteries and prepare themselves for a thrilling and action-packed adventure to have any hope of returning the book to its rightful owner.
Once again, the film's cast is a veritable who's who of acting royalty. Ben Whishaw returns as the voice of Paddington, while an ensemble of famous faces including Hugh Bonneville, Sally Hawkins, Julie Walters, Jim Broadbent, and Peter Capaldi make up a stellar supporting cast.
Despite having the help of his newfound family, a series of unfortunate events and mischievous deeds lead Paddington to find himself behind bars after being falsely accused. Luckily, a newfound ally is on to help Paddington clear his name and get back on the hunt for the book.
Brendan Gleeson pops up as "Knuckles" McGinty, an infamous safecracker and legendary strong man. After an awkward introduction, the intimidating criminal warms to Paddington and becomes pivotal in the young bear's quest to catch a thief.
Paddington's debut cinematic outing back in 2014 was widely received as one of the year's most charming big screen releases. The film not only banked millions at the box office, but also captivated countless cinemagoers around the world. Producer David Heyman (Harry Potter) and director and co-screenwriter Paul King have returned, while comedian Simon Farnaby (The Mighty Boosh, Horrible Histories) has also joined the writing team. Expect a typically wacky yet joyous cinematic celebration of Michael Bond's original novels.
Last time a little bear made a big splash, this time he'll scale new heights of adventure. Balancing family-friendly entertainment with brilliantly animated performances and an enchanting story, Paddington 2 picks up where its precursor left off and promises to once again find a very special place in the hearts of audiences far and wide.
Bear Essentials
Paddington's creator and Blue Peter cameraman Michael Bond was inspired to bring the cheeky character to life after buying a shabby teddy bear on Christmas Eve, 1956. Two years later, the beloved bear made his first appearance in print in the book, A Bear Called Paddington. Paddington's real name is "Pastudo" but he was named after the train station when the Brown family struggled to understand his Peruvian title. His coat was a gift from the Brown's upon arriving in London, and his trusty wellington boots were originally given to him as a Christmas gift back in 1964. Paddington even has his own bronze statue in the station that shares his name, a welcome greeting to those arriving in the capital, just like he did all those years ago.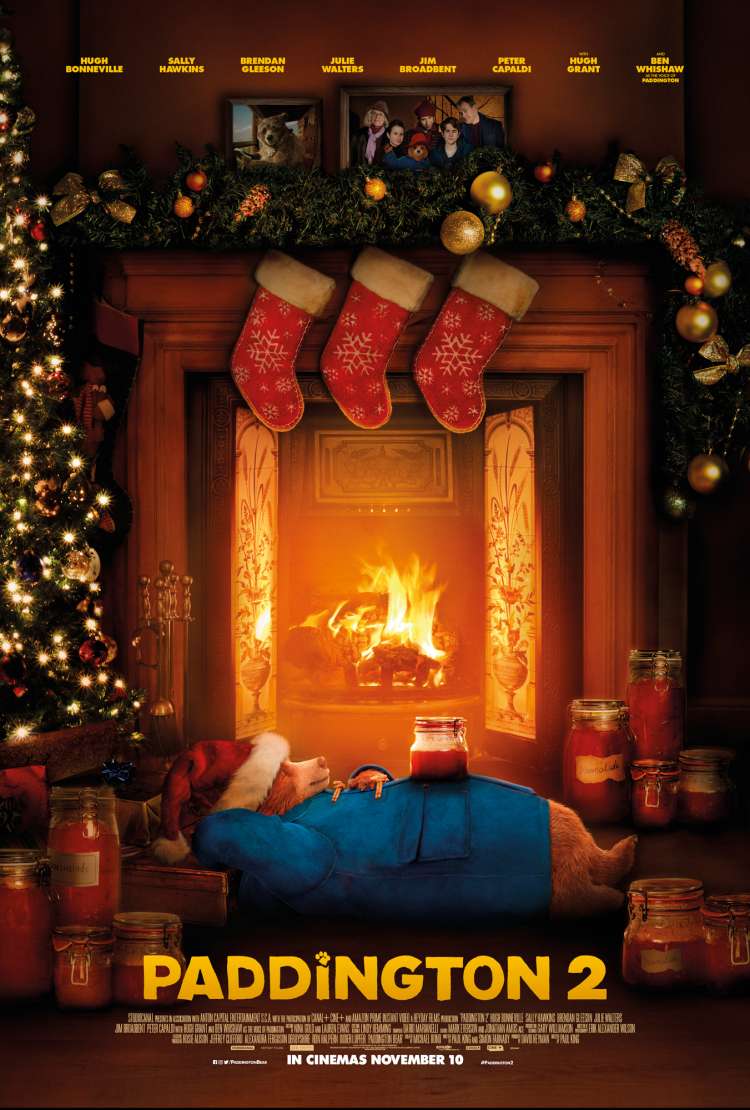 Paddington 2
Small bear. Big trouble.
CLICK TO FIND OUT MORE
PG