Review
Logan Lucky
---
By Aaron Potter
Article Published on 04.09.2017
A far cry from the glitzy and stylish genre products the Hollywood machine churns out, Logan Lucky switches up the formula to highlight an often-misrepresented area of America and deliver a comedic tale that sees its star-studded cast steal a win for the little guy
There's so much about Logan Lucky – the new hillbilly heist movie that drew director Steven Soderbergh out of retirement – that's reminiscent of the type of film we just don't see anymore. A far cry from the glitzy and stylish genre products the Hollywood machine churns out, Logan Lucky switches up the formula to highlight an often-misrepresented area of America and deliver a comedic tale that sees its star-studded cast steal a win for the little guy, by any means.
Channing Tatum swaps heartthrob for humdrum and stars as Jimmy Logan, a hardworking, but underachieving blue collar every man who's trying to win back his family. The only method of doing so? By staging a cash-robbery within West Virginia's very own Charlotte Motor Speedway; a scheme so far-fetched that it's only possible with the help of his brother Clyde, explosives expert Joe Bang, and a host of other equally quirky cohorts.
But these about-face performances from the entire cast are only surface-level ways in which Logan Lucky plays on audience expectations. It constantly lulls you into a false sense of familiarity only to surprise you with just how "matter-of-fact" the whole movie actually is in terms of plot, setting, and even cinematography. Even during its briefest moments of absurdity, Logan Lucky remains grounded.
Screenwriting newcomer Rebecca Blunt's script is punchy, hilarious, and does an overall superb job of fleshing out the wider character's intentions and reasons for risking their well-being. Knowingly doing-so in a way that's free of suave and sophistication. Logan Lucky's central heist sequence is similarly blasé, but if you think that this more stripped-back approach would leave the movie free of the obligatory heist film "here's how we did it" retrospective, you'd be wrong.
Yet for all of its genre-breaking greatness, strange casting choices keep it from being a complete triumph. Seth Macfarlane's boisterous drinks businessman continues Soderbergh's peculiar penchant for including a laughably bad British accent and Hilary Swank gives a confusingly robotic performance as the obsessive FBI Agent hot on the heels of the Logan brothers.
But these are only minor blemishes that barely show on one of the freshest heist films to grace the silver screen in a very long time. Logan Lucky is a tour de force of fun and espionage that keeps its audience guessing from beginning to end.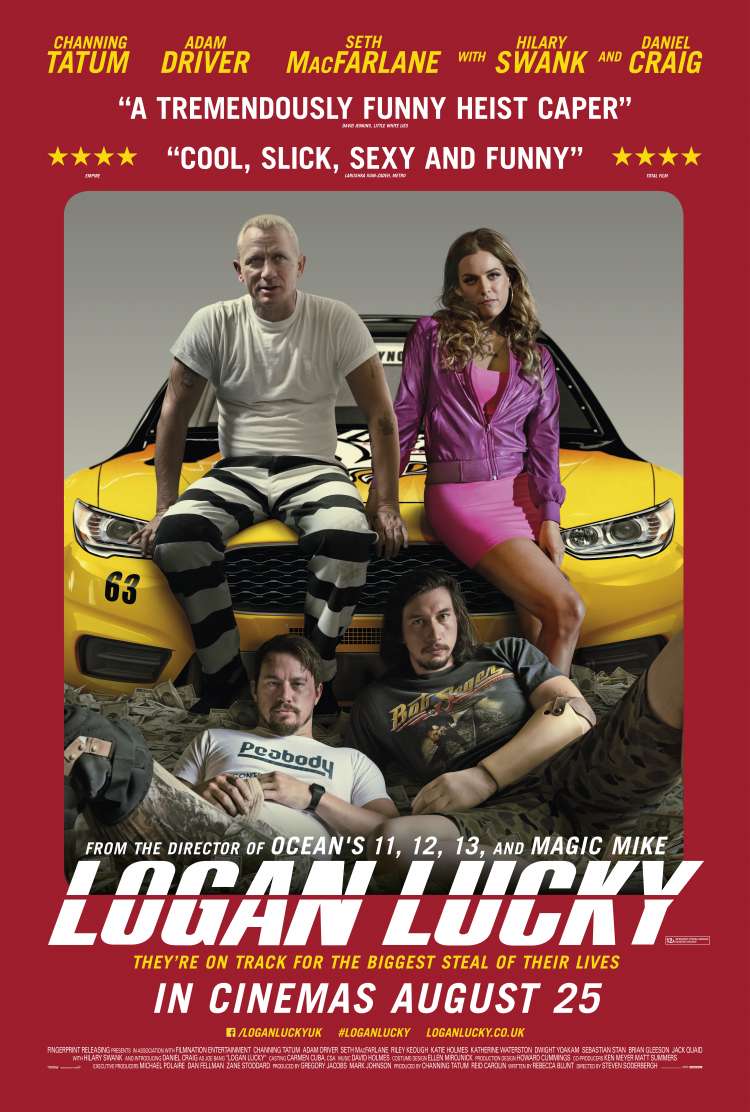 Logan Lucky
They're on track for the biggest steal of their lives.
CLICK TO FIND OUT MORE
12a