Feature
Suited & Booted
---
When a catastrophic attack is unleashed upon the Kingsmen, the spy collective is forced to team up with their American counterparts to ensure the world doesn't fall into the grip of a deadly force.
Article Published on 15.09.2017
Eggsy and his fellow Kingsmen are back, and this time they're not alone in their fight against the world's most nefarious supervillains. Fresh from putting the sword to Samuel L. Jackson's "Valentine" at the climax of their first cinematic soiree, the international intelligence agency find themselves once again thrust into a bombastic barrage of danger, action, and rather splendid suiting.
Director Matthew Vaughn and writer Jane Goldman have returned to weave another yarn into the bloodstained tapestry of Mark Millar and Dave Gibbons' celebrated graphic novel, The Secret Service. Much of the original cast remains intact with a few missing characters and new additions for a unique line-up set to dive headfirst into the fray.
Following the destruction of their UK headquarters, the Kingsmen embark upon a journey to the United States to uncover and join forces with clandestine spy organization, the Statesmen. Savile Row meets Stetson, Oxford lace-ups go toe-to-toe with cowboy boots, and the Queen's English is replaced by a Southern drawl as the two organisations team up to take down a ruthless enemy.
Vaughn is well-known for assembling killer ensemble casts, and the second Kingsmen outing is perhaps his most impressive yet. In a shocking turn of events, Colin Firth's Harry Hart has returned from the dead to once again cast a watchful eye over his young protégé Eggsy (Taron Egerton) and technological wizard, Merlin (Mark Strong) – and to, of course, lay the smack-down in the most gentlemanly way possible.
The Kingsmen's American cousins aren't short of A-List star power, either. Jeff Bridges, Halle Berry, Channing Tatum, and Pedro Pascal all gear up to help take down those responsible for an explosive assassination attempt on the Kingsmen, and a despicable act that will leave audiences aghast.
The Golden Circle introduces a new and extremely formidable foe in the form of Poppy. Portrayed by the Academy Award-winning Julianne Moore, the lifestyle-guru-turned-terrorist may well appear to possess a disposition constructed from sunshine and lollipops, but the reality is she's a cold-blooded killer hell-bent on world domination. Much like Valentine's attempts to halt climate change, Poppy's ultimate goal may well appear admirable, but her methods smack of madness. The finer details of her modus operandi are best left undisclosed, however, were you to find yourself in her jungle diner lair, it's probably best to avoid the hamburgers. Vaughn and Goldman crafted a nuanced and multifaceted villain, an individual who breaks the mould of the typical bad guy. Moore's acting prowess is sure to leave viewers wishing for Poppy's demise yet captivated by her dastardly deeds.
In the words of Harry Hart, "Being a Kingsman is far more than the clothing they wear or the weapons they bear, it's about being willing to sacrifice for the greater good." The only way to assure good comes out on top is through a whole lot of badass action. Expect more ass-kicking, fast-talking, deadly gadgets, and gleefully gory exchanges in a jet-setting action-adventure filled with jaw-dropping set pieces and the finest comedic execution.
Can the Kingsmen and Statesmen overcome their culture clash and form an unstoppable "special relationship"? Or will Poppy dethrone them one by one until nothing stands in her way?
The Statesmen
Agent Champagne
(Jeff Bridges)
The bourbon sippin' leader of the Statesmen. Strong, brave and fearless, Champagne certainly has a few tricks up his sleeve, and his dandy hat certainly ain't just for fashion.
Ginger
(Halle Berry)
The resident Statesmen genius and Merlin's only technological rival. Ginger may well be soft-spoken, but her actions in front of a computer speak volumes.
Agent Tequila
(Channing Tatum)
Champagne's second-in-command. Fond of toting a shotgun and not afraid to unleash the odd wisecrack, Tequila is a good ol' Southern boy and an ex-rodeo clown who isn't afraid of taking a wild ride.
Agent Whiskey
(Pedro Pascal)
As American as a bald eagle eating an apple pie on the 4th of July, Whiskey bleeds red, white, and blue, and packs a red-hot lasso and a couple of six shooters. Justice awaits all who cross his path.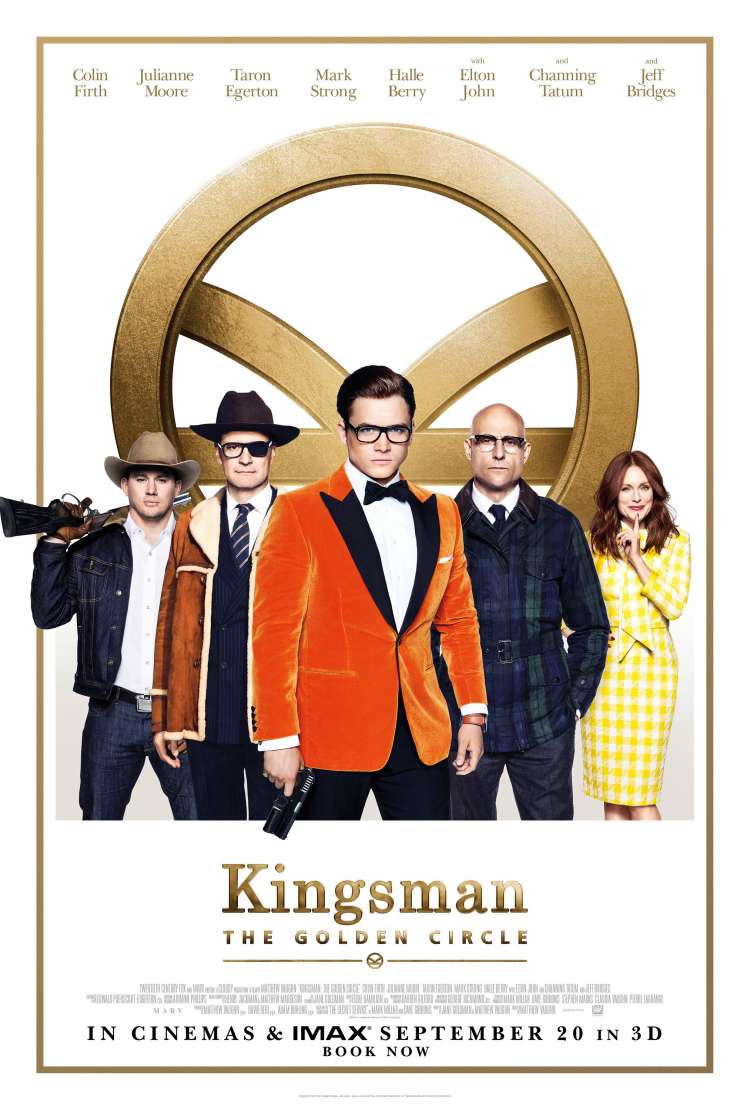 Kingsman: The Golden Circle
I hope you're ready for what comes next!
CLICK TO FIND OUT MORE
15