Feature
Read All About It
---
Romance, violence, revolution, and cover stories! Welcome to the wonderfully whimsical world Wes Anderson has created for his latest headline-grabbing comedy that features his most eclectic and exciting ensemble cast yet.
Article Published on 16.08.2021
Words Brody Rossiter
After a life-changing trip to the irreverent Isle Of Dogs and an unforgettable stay at The Grand Budapest Hotel, director Wes Anderson returns with the latest eccentric entry in his canon of visually flamboyant and emotionally beguiling movies.
This time, he's taking us to a fictional 20th-century French city – a perfect picturesque backdrop for a confirmed Francophile filmmaker – to share stories from an outpost of weekly American magazine The French Dispatch. Billed as a "love letter to journalists", Anderson's tenth feature is formed from episodic snapshots of characters as they navigate and document the wonderfully offbeat, and often tumultuous, world that Anderson has placed them upon.
From the vibrant and ornate interiors of the eponymous journal's offices to claustrophobic greyscale jail cells and chaotic streets strewn with marauding protestors, The French Dispatch's painstakingly composed bulletins exhibit a longing for new discoveries and a wistful reverence for a bygone era of journalism. Anderson's inspiration for the film largely stems from articles published within The New Yorker over its near-century-long tenure.
With a typically star-studded ensemble cast, and Anderson's sumptuous eye for detail once again on display, the director's latest byline will no doubt join the illustrious ranks of his most ambitious work and introduce audiences to another gloriously unique world escape to.
Extra! Extra!
Owen Wilson, Bill Murray, Tilda Swinton, Adrien Brody, Frances McDormand, and several more of Anderson's familiar favourites are joined by some exciting new collaborators.
Timothée Chalamet
Hollywood's heartthrob continues his hot streak starring as the wide-eyed student revolutionary Zeffirelli.
Benicio del Toro
Benicio del Toro adopts the role of Moses Rosenthaler, an artist behind bars whose powerful works catch the eye of Adrien Brody's famed art dealer Julien Cadazio.
Elisabeth Moss
The Handmaid's Tale and The Invisible Man star joins The French Dispatch's staff, seemingly playing a pivotal part in the publication's journey to print.
Jeffrey Wright
Best known as Bond's Felix, Wright stars as Roebuck Wright, a food journalist and the illustrious author of The Private Dining Room Of The Police Commissioner.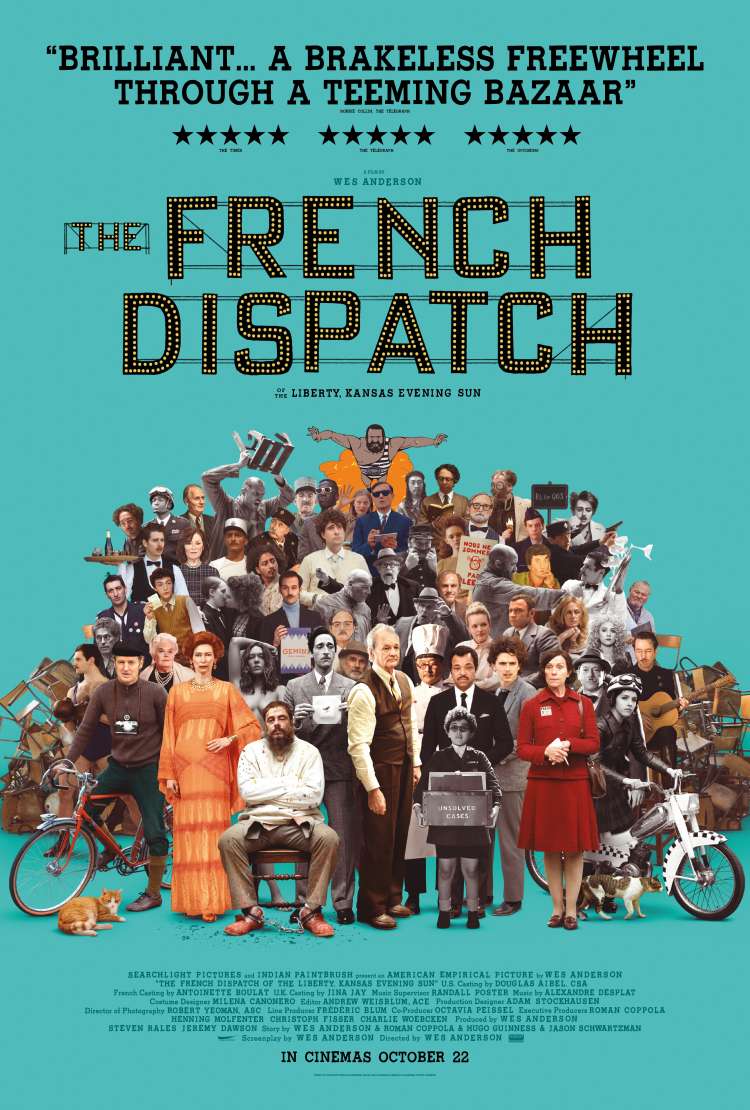 The French Dispatch
A Film By Wes Anderson
CLICK TO FIND OUT MORE
15