Trailer
Sing 2 Trailer
---
Warm up your vocal cords and get ready to sing your heart out all over again, the hit-filled trailer for the sequel to the animated smash-hit is here.
Article Published on 25.06.2021
Now that's what I call a trailer. With plenty of pop parodies, celebrity cameos, and more of the heart and hilarity fans fell for first time out, the new chapter in Illumination's animated smash promises to be everything Sing fans were looking for. After successfully turning his New Moon Theatre into a local hit, Matthew McConaughey's ever-ambitious koala Buster Moon is back and ready to achieve his next dream as he takes his all-star animal cast to audition for a headline spot at a glamorous new venue. But after they and a Billie Eilish-like bush baby, duckling rappers, and a Drake-obsessed slug, are rejected, they convince mean mogul wolf Mr Crystal to change his mind by promising that they'll bring a legendary rock icon out of retirement to perform with them. Legendary music icon Bono roars into his big screen debut as the voice of the reclusive rockstar lion, Clay Calloway, Buster must persuade to comeback. But it's not all about Buster and his latest dreams, all of your favourite animal performers have their moment in the spotlight as Sing 2 promises to present each of them with a challenge to face. We see Taron Egerton's gorilla Johnny suffering a crisis of confidence as he struggles to take his career to the next level, Reese Witherspoon's mother pig Rosita facing being replaced by a younger performer, and Scarlett Johansson's rocker porcupine Ash take to the stage to sing a U2 classic. Get ready for more hijinks, hilarity, and an emotional reminder of the power of music when Sing 2 comes to cinemas in January.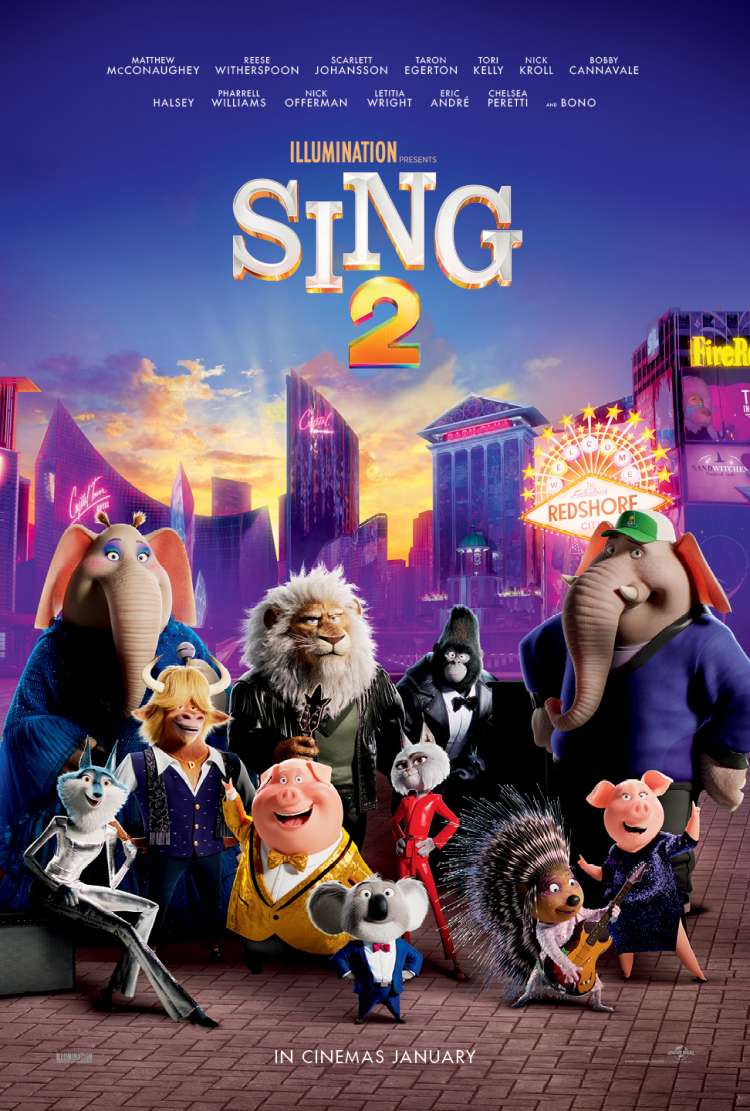 Sing 2
Where will your dreams take you?
CLICK TO FIND OUT MORE
U