Feature
Dream Big
---
Get ready for another star-studded singalong as Illumination raises the curtain on the second chapter of its smash hit featuring your favourite animal characters, new songs, and an all-new musical adventure.
Article Published on 03.12.2021
Words Jim Roberts
Buster Moon is back! Matthew McConaughey reprises his role as the ever-ambitious koala compère who's dreaming of building on his incredible success at his New Moon Theatre by hosting the greatest show known to all animal kind at the famous Crystal Tower.
Sing 2 welcomes back its lovable cast of critters, including Scarlett Johansson's Ash, Taron Egerton's Johnny, Reese Witherspoon's Rosita, and Tori Kelly's Meena. There's also a slot in the line-up for exciting new animals voiced by Pharrell Williams, Halsey, Letitia Wright, Eric Andre, and other stars of pop and screen.
If the ensemble are going to get their shot at stardom, they'll need to impress music mogul Jimmy Crystal – a no-nonsense wolf who's just like Simon Cowell, but with a bite as bad as his bark. It's here that they'll turn to a real legend, Bono's Clay Calloway, a solitary lion who's not performed for over fifteen years.
Buster's quest to convince Clay to come out of retirement, while also helping his old stars shine brighter than ever in the face of new demons, promises to be another spectacle full of Illumination's trademark heart and humour. This tale about the healing power of music will unite animals of all kinds (and humans of all ages) while ensuring families in need of entertainment find what they're looking for.
Who has the X Factor?
Bono is Clay Calloway
The Irish rock legend and U2 return with new music. Though reluctant to return to the limelight, it's hard to argue against this roaring rock 'n' roll performer.
Tori Kelly is Meena
This elephant has the classic X Factor story: initially too shy to perform before conquering her fears. She'll be tested more than ever as a larger audience awaits.
Scarlett Johansson is Ash
If rock is more your thing, maybe this spiky porcupine will steal the show this time around. Her and Clay's A Star Is Born-style cover of a U2 classic is pure singalong territory.
Taron Egerton is Johnny
He had audiences off their seats with a rousing rendition of I'm Still Standing, now the go-getting gorilla is adding dancing to his repertoire for the brand- new show – but only if he can impress his cruel choreographer.
Reese Witherspoon & Nick Kroll are Rosita & Gunter
This unlikely double-act are a dark horse (or dark pig) for the crown with hilarious antics and eccentric dance moves. Battling imposter syndrome this time around, Rosita will need all twenty-five of her piglets to pick up the phone and vote!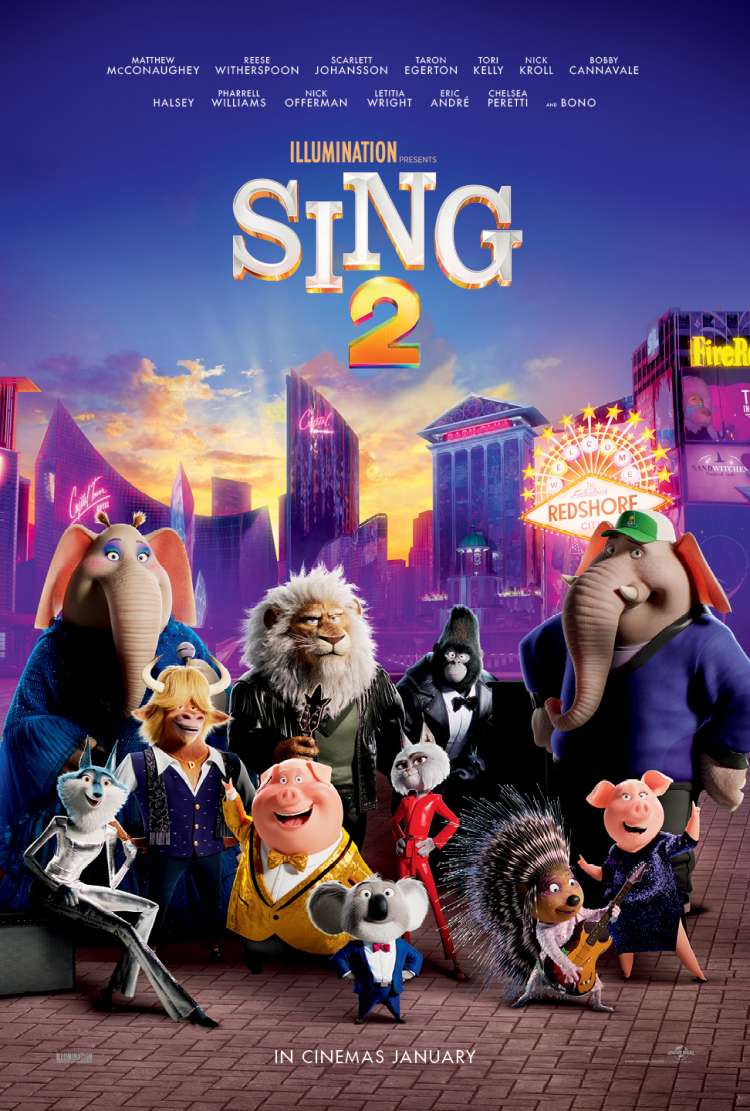 Sing 2
Where will your dreams take you?
CLICK TO FIND OUT MORE
U