Trailer
Puss In Boots: The Last Wish Trailer
---
The famous fairytale feline is back and pouncing into an epic adventure that may just be his last.
Article Published on 16.06.2022
It's been over a decade since the last adventure in the magical world of Shrek, now DreamWorks Animation bring Antonio Banderas back into the boots of the fan-favourite swashbuckling feline for his greatest adventure yet. While a lot of time has passed and animation advances see him sporting a stunning new visual style, the trailer shows that Puss in Boots hasn't changed one bit. He's still the same swaggering charmer who stole the show in Shrek 2 and earned himself a spin-off and is still flirting with danger in his sequel. But his latest heroic deed, defeating a colossal stone giant, comes at the ultimate price, his life. But as the trailer reveals, this isn't the first time and Puss' life spent laughing in the face of danger has seen him burn through eight of his nine lives – in heroic and hilarious ways, from a shellfish allergy to being squashed by a sumo. Now faced with his own mortality, he sets out to win the lost lives back. With only one life left, the stakes have never been higher on the most dangerous adventure that sees him reunite with former-nemesis-turned-love-interest Kitty Soft Paws, voiced by Salma Hayek, and encounter Florence Pugh's Goldilocks, The Three Bears Crime Family, and The Big Bad Wolf. Also confirmed for the sequel's all-star voice cast are Olivia Colman, Ray Winstone, John Mulaney, Wagner Moura, Samson Kayo, Anthony Mendez, and Da'Vine Joy Randolph. Puss In Boots: The Last Wish comes to cinemas February 2023.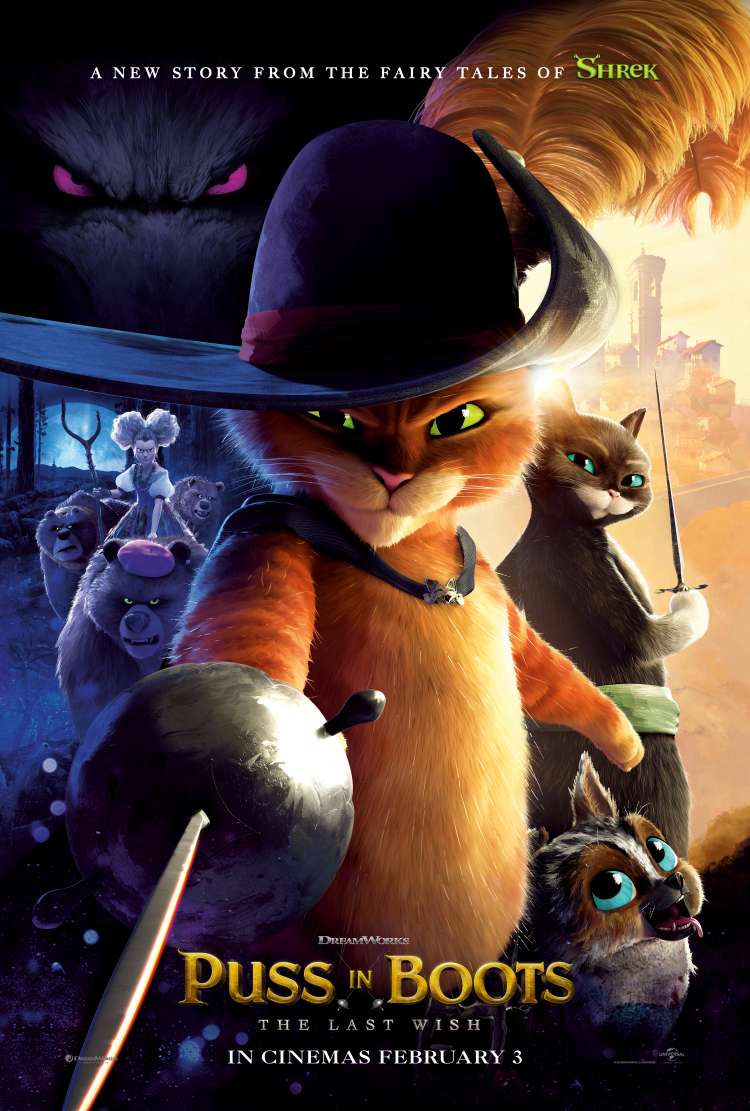 Puss In Boots: The Last Wish
Live each adventure like it's your last
CLICK TO FIND OUT MORE