Feature
Meow Or Never
---
When Puss in Boots discovers he's on the last of his nine lives, he sets out on a mythical quest to find The Last Wish and restore them before it's too late.
Article Published on 01.12.2022
Words Harry Faint
Your favourite feline adventurer is back, leaping onto the big screen for another swashbuckling ride. But it looks like the reckless escapades have taken their toll on this fearless kitty when it's revealed that Puss has burned through all but one of his nine lives. Luckily, fortune favours the brave and opportunity presents itself when he becomes aware of the mythical Last Wish.
Joining Puss on his exciting adventure to wish for more lives is his old frenemy Kitty Softpaws and a new cuddly puppy companion called Perro. With a bounty on his head from his previous antics, the trio must stay ahead of Big Jack Horner, The Big Bad Wolf, and Goldilocks and her three bears, who are hot on their tails, as they race to The Last Wish before our hero's last life runs out.
Antonio Banderas returns to voice his famous feline Zorro-esque lead and is joined by Salma Hayek, Harvey Guillén, John Mulaney, Ray Winstone, Wagner Moura, Olivia Colman, and Florence Pugh – who voices a much meaner Goldilocks to the one we remember from fairytales.
Co-directing this time is Joel Crawford, who recently made his directorial debut with family favourite The Croods: A New Age, so get your claws into another epic animated adventure for the ages.
A Purr-fect Fairytale
Shrek 2
Puss in Boots pounces onto screens as an assassin hired to eliminate Shrek but soon becomes a loyal ally to our heroes and reveals that it was Shrek's father-in-law, King Harold, who hired him.
Shrek The Third
When Shrek states that an ogre wouldn't make a great king, Puss sets off with Shrek and Donkey to find Prince Arthur so he can take his place on the throne.
Shrek Forever After
In an alternate timeline conjured by Rumpelstiltskin, the heroic Puss has retired and become an overweight house pet who can no longer fit his boots.
Puss In Boots
Puss' standalone spin-off reveals his origin story and his adventures once upon a time before Shrek and Donkey.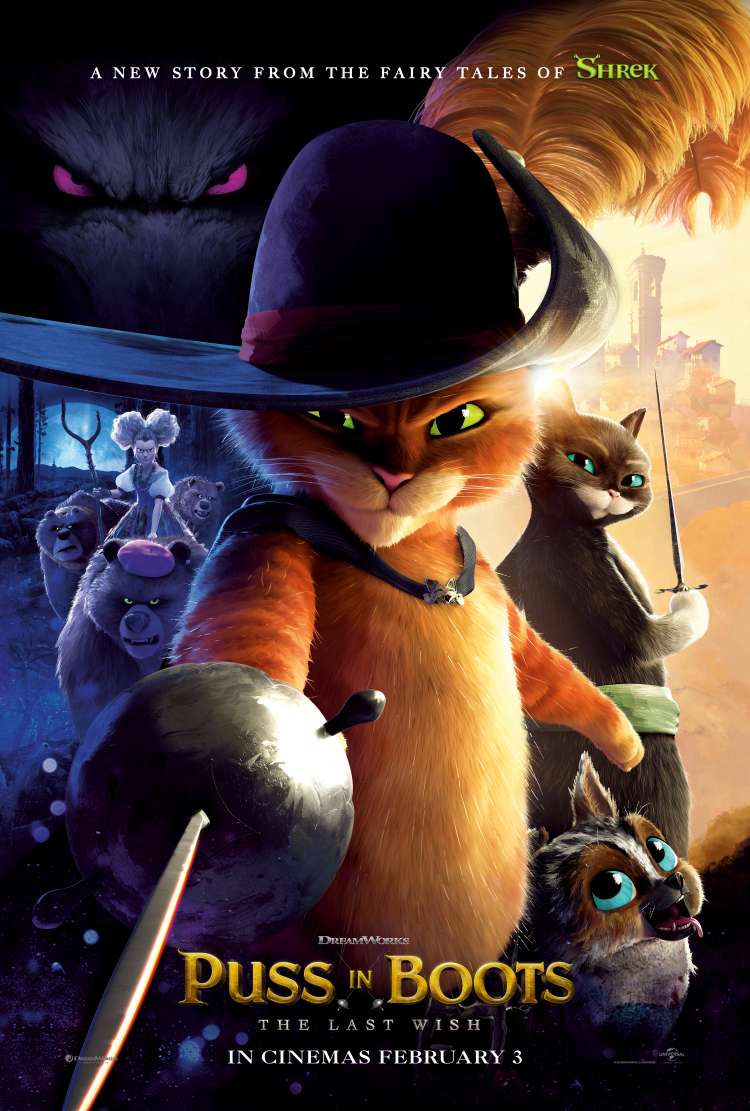 Puss In Boots: The Last Wish
Live each adventure like it's your last
CLICK TO FIND OUT MORE