Feature
A Waiting Game
---
With a German attack imminent, a company of British soldiers can only wait as fear, suspense, and paranoia brew in a poignant First World War drama.
Article Published on 29.01.2018
R.C. Sherriff's formative anti-war play paints a harsh and harrowing picture of life in the trenches and has become a staple of the stage, school syllabuses, and the screen.
Directed by Saul Dibb, the fifth adaptation of Journey's End follows eighteen-year-old Second Lieutenant Raleigh (Asa Butterfield) as he arrives fresh out of training eager for his taste of war. Excited to serve under his sister's boyfriend and his childhood hero, Captain Stanhope (Sam Claflin), he pulls strings at battalion headquarters to join C-Company as they head to the frontline.
But the great wat stories he'd been told are quickly replaced by the bleak reality of conflict. Expecting to reunite with an old friend and idol, Raleigh instead meets an almost unrecognisable figure who resents his arrival.
Haunted by the horrors of war and drinking heavily, Stanhope is a shadow of his former self and is worried Raleigh may write to his sister revealing the truth of Stanhope's condition.
While their captain continues to escape his fears at the bottom of a bottle, Raleigh and his fellow officers try to keep spirits high as the hours until the impending German advance tick by.
Misery Loves Company
Journey's End boasts a fantastic British ensemble who fill the roles of the officers sharing the claustrophobic trench with Sam Claflin's Captain Stanhope and Asa Butterfield's Raleigh.
Lieutenant Osborne (Paul Bettany)
Nicknamed "Uncle", the former schoolmaster is second-in-command, Stanhope's mentor, and a father figure to the young soldiers.
Second Lieutenant Trotter (Stephen Graham)
A portly soldier with an iron stomach, often seen making jokes and comfort-eating to pass the time.
Second Lieutenant Hibbert (Tom Sturridge)
A young officer who claims to be critically ill, but Stanhope suspects is feigning to leave the front line.
Private Mason (Toby Jones)
The battalion's clumsy cook whose lack of skill and simple manner provides light-hearted relief in the bleak situation.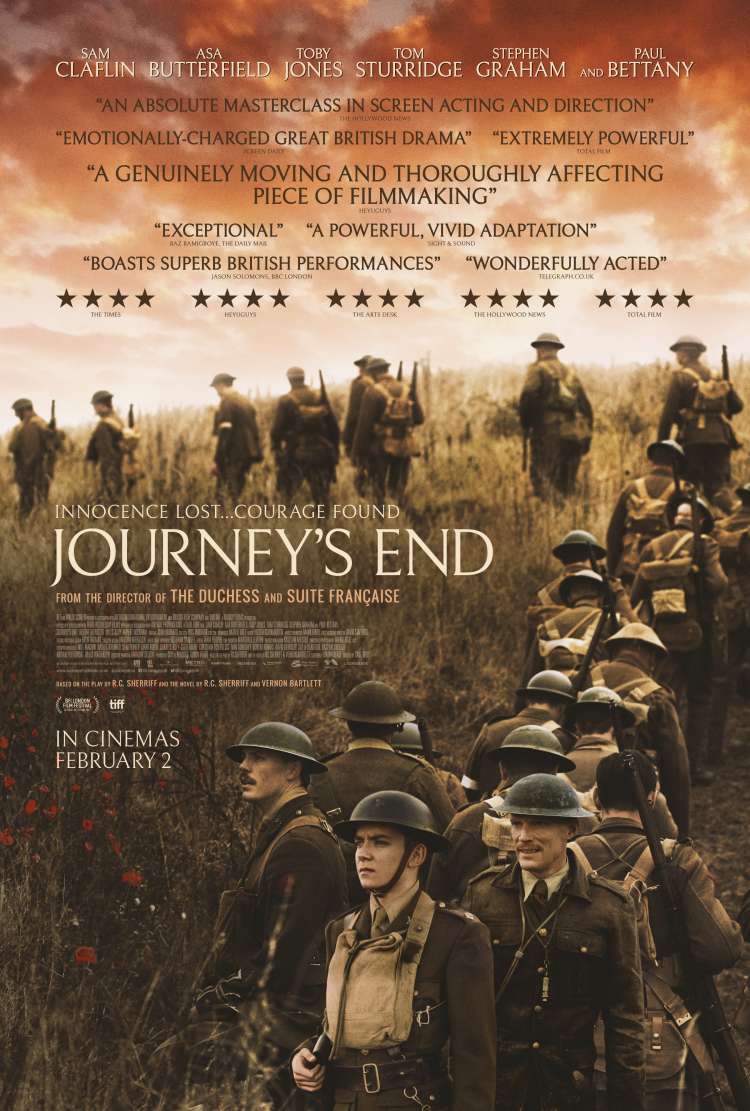 Journey's End
Innocence lost...courage found.
CLICK TO FIND OUT MORE
12A