Feature
Forever Young
---
Johnny Knoxville & co are back for one last rodeo to leave you crying with laughter as their side-splitting stunt show returns to cinemas.
Article Published on 03.12.2021
Words Jim Roberts
It started as stupidity on the small screen before exploding into a global franchise with three feature films and unforgettable laughs along the way. Now, for the first time in more than a decade, everyone's favourite self-proclaimed idiots are back to bring more bonkers stunts to the big screen.
Johnny Knoxville, Steve-O, Wee Man, Chris Pontius, Preston Lacy, Dave England, and Danger Ehren reunite for the fourth and final time. But they're not going to go quietly, they've devised their most outrageous film yet so they can really go out with a bang!
To do so, they're going to need some help. The old friends open the crew to some exciting new members. Jackass Forever is something of an initiation ritual for Jackass superfans Zach Holmes, Jasper Dolphin, Rachel Wolfson, and Sean "Poopies" McInerney. That's not all, Knoxville & co have always been able to convince a few famous friends to tag along and this time is no different as Post Malone, Machine Gun Kelly, Eric Andrew, Tony Hawk, and more celebs get caught in the carnage.
Jackass Forever will takes things to dizzying new heights and disgusting all-time lows as the crew throw themselves into death-defying stunts, hilarious pranks, revolting gross-out comedy, and traumatising animal encounters.
Grab your cinema crew and celebrate the joy of being back together Jackass style, but remember, don't try this at home!
This is…
The Golf Course Airhorn
Hiding in the bushes and blasting golfers with an airhorn. Sometimes, the simple pranks are the best. Watching the Jackass crew annoy unsuspecting members of the public (and celebs) is where it all began and remains some of the funniest things they do.
The High Five
When they're not pranking the public, they're torturing each other. This iconic trick saw unsuspecting crewmates take a giant hand slap to the face. In Jackass forever, The High Five is reincarnated for a new game where the loser gets High-Fived into the pool behind.
The Poo Cocktail Supreme
A portaloo full of dog poop attached to a giant slingshot, the rest is history. This Steve-O special is the most disgusting thing they've ever done. There's no doubt they'll try and go grosser with more wretch-worthy moments this time out.
The Anaconda Ball Pit
Knoxville, Wee Man, and the late Ryan Dunn share a ball pool with two very large anacondas. Animals always play a key part in the stunts and the new film sees Knoxville go head over heels for a bull, two of the crew face off with a hairy tarantula, and Danger Ehren get dressed up for a dinner date with a bear.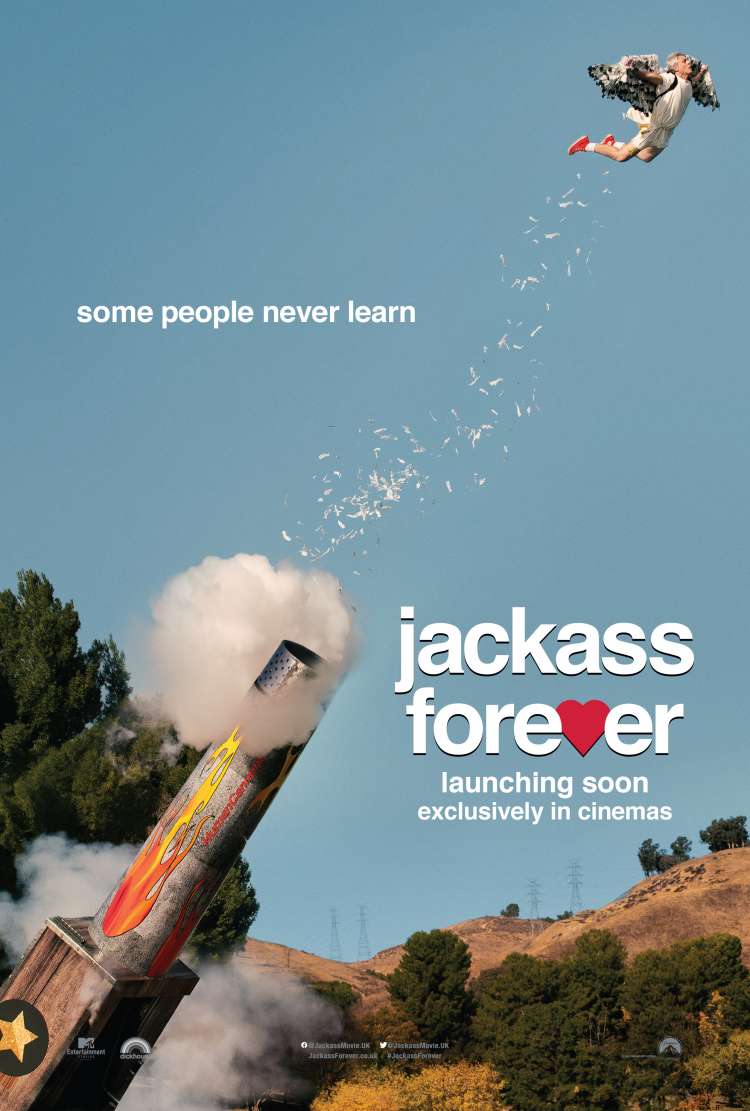 Jackass Forever
Some people never learn
CLICK TO FIND OUT MORE
18