Feature
Don't Call Them Angels
---
Charlie's Angels is a rare treasure: a reboot that feels relevant, rather than a re-tread. With Bond on the backburner and Bourne long forgotten, I spy a secret agent smash beginning with C.
Article Published on 01.11.2019
Not to be sold short as a "reboot of the 2000 action comedy based on the television series," Charlie's Angels is a kick-ass espionage comedy, repurposed from an exploitation piece. Casting an interesting mix of indie darlings and relative unknowns as the leads, director and writer Elizabeth Banks sets out her stall as if to say; "we don't need a female Bond."
Turns out she's got something far better in the form of Elena Houghlin, Sabina Wilson, and Jane Kano AKA Charlie's Angels. These aren't the sort of spies who'll seduce you and steal your secrets while you sleep; they'll knock down your front door and spark you out before you know what's hit you.
With Banks herself taking on the head of the Bosley agency alongside national treasure Patrick Stewart and Djimon Hounsou, the trio must track down a revolutionary source of energy before it can be weaponised by ne'er-do-wells.
With stunt work which will have you worried that someone's going to get seriously injured, along with enough firepower to make John Wick happy, never mind Angels With Dirty Faces, how's about Angels with bloody fists!
Meet The Angels
Elena Houghlin
Before becoming an Angel, Naomi Scott took on the role of perennial pubescent crush the Pink Ranger/Kimberley in 2017's Power Rangers, and more recently went on a magic carpet ride as Princess Jasmine in Disney's live-action Aladdin.
Sabina Wilson
Not known for her action roles before Charlie's Angels, Kristen Stewart shook off the Twilight movie stigma through a string of acclaimed indie roles, while also carving a career as a fashion icon. Immortalised without being bitten? Bonus.
Jane Kano
Charlie's Angels looks set to be Ella Balinska's breakout role after appearances in terrestrial TV favourites such as Casualty and Midsomer Murders. Next up for the sometime-Londoner is Shana Feste's horror Run Sweetheart Run and then, the world.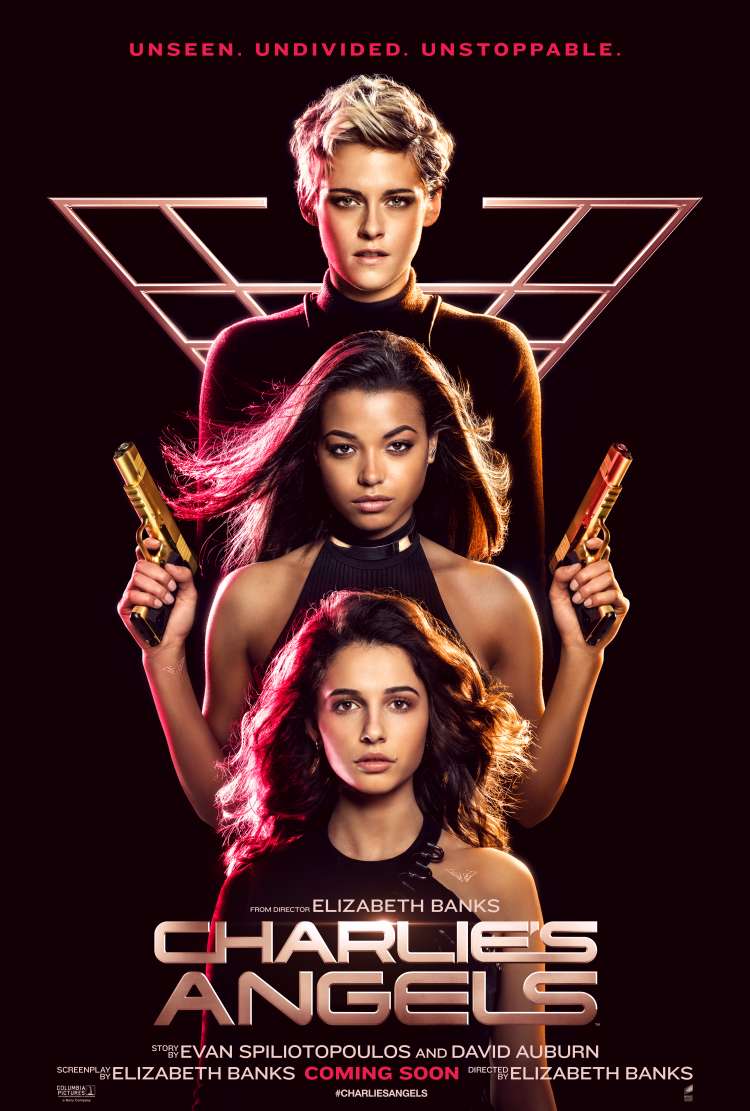 Charlie's Angels
Unseen. Undivided. Unstoppable.
CLICK TO FIND OUT MORE
12A