Feature
Best British Feel-Good Films
---
5 hearty British feel-good films guaranteed you make you smile
Article Published on 02.03.2020
Words Rhys White
Have you had a bad week and need cheering up? There's nothing like popping on your favourite feel-good film and escaping for a couple of hours. Whether you prefer a soppy rom-com, an animated family classic, or a tearjerking true story, we've got you covered. The sub-genre is often overlooked by critics but don't underestimate the effect a wholesome film can have on your well-being. Here are five of the best British feel-good films that are sure to put a smile on your face.
1. Bridget Jones's Diary
This terrifically fun film is a staple if you're looking for a mood boost. Renée Zellweger's unlucky-in-love neurotic finds herself in a love-triangle with snooty Mark Darcy (Colin Firth) and charming sleazeball Daniel Cleaver (Hugh Grant), and the awkward meetings, the will-she/won't she, and romance that ensues leaves you warm and fuzzy no matter how many times you've seen it.
2. Pride
The incredible true story of The National Union of Mineworkers and LGSM uniting will bring you to tears and fits of laughter. Elevated by its marvellous ensemble cast (Bill Nighy, Imelda Staunton, and George MacKay) Pride is a joyous crowd-pleaser through and through. It's a real must-see and definitely one to tell your friends about.
3. Chicken Run
The tragic tale of a group of plucky chickens trapped inside of a terrifying farm may not sound like mood-lifting viewing, but this magical story has just as much heart as any film on the list. From the hilarious hijinks and rivalry between bone-chilling Mrs Tweedy and the main heroine, Ginger, you'll find yourself feeling a lot better after sitting down with this classic Aardman animation. And if you're not sold already, it has one of the most satisfying endings in cinema history.
4. I Give It A Year
This hidden gem is perfect for anyone in need of a mood lift. At first glance, it may seem to be just another generic rom-com, but thanks to a stellar cast – including Rose Byrne, Rafe Spall, and Stephen Merchant – and a clever script full of punchy one-liners, I Give It A Year becomes a perfect feel-good hour and a half. It's arguably the best British rom-com of the last century and certainly one to add to your watch list.
5. Wild Rose
Finally, we have 2018's Wild Rose. A fist-pumping drama circling a Scottish mother fresh out of jail who pursues a singing career will put a skip in your step and keep you humming all day long. Following her breakout role in Beast, true rising star Jessie Buckley is a revelation as the titular character in a film that blends country music with crude Celtic dialect to deliver a truly heartwarming drama. A true delight and one of the best feel-good films in recent years.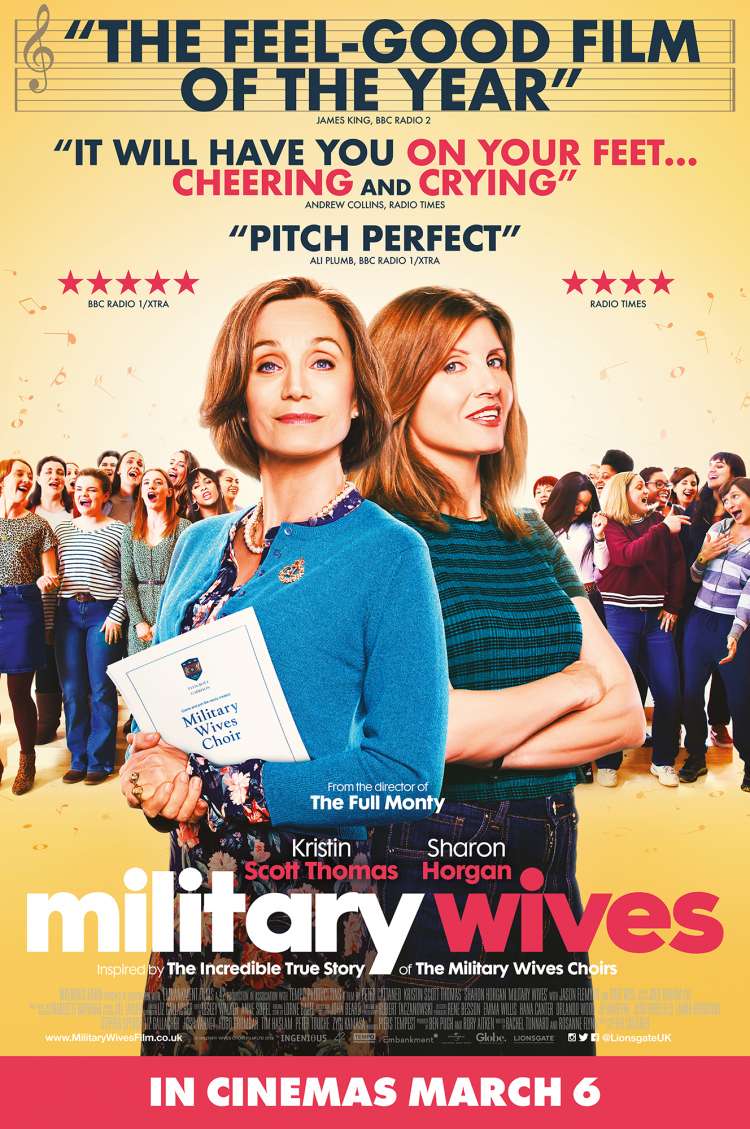 Military Wives
In The Hardest Times There Is Strength In Harmony
CLICK TO FIND OUT MORE
12A