Feature
The Fight For Power
---
Sparks fly as Benedict Cumberbatch's Thomas Edison and Michael Shannon's George Westinghouse lock horns in an electrifying period drama depicting the fierce battle to power the world.
Article Published on 12.07.2019
Director Alfonso Gomez-Rejon (Me And Earl And The Dying Girl) transports us to late 19th century America, where iconic inventor Thomas Edison (Benedict Cumberbatch) attempts to dazzle Manhattan with his large scale, low voltage, direct current technology. He's supported by his wife Mary Edison, played by Tuppence Middleton – reuniting the pair following 2014's The Imitation Game – and pushed on his ethics by his forthright assistant (Tom Holland).
However, it's the mutton-chopped George Westinghouse (Michael Shannon) who feels he's seen fatal flaws in Edison's plan. Backed by J.P. Morgan and his wife Marguerite, they bet everything on the riskier high voltage alternating current, so igniting the famous "War of the Currents."
The script from playwright Michael Mitnick will strike the delicate balance between scientific theory and human interest in a bid to fully light up our screens this summer. It'll also trace the early journey of enigmatic electrical engineer Nikola Tesla (Nicholas Hoult) and his own part in the ensuing "war."
The action is as much about ego as it is ingenuity, and after being held back due to the Weinstein scandal, it's only now that this long-delayed film will finally see the light.
AC v DC. Plug in and let battle commence...
AC / George Westinghouse
As portrayed by Michael Shannon (8 Mile, Revolutionary Road), an American who's struck it rich but stayed modest, driven by strong family values and a desire to help create a technology that would better serve the world.
AC / Nikola
Tesla Although not the film's main player, Nicholas Hoult (recently starring in Tolkien) offers us a fascinating glimpse into the maverick Serbian/American inventor and his involvement in AC technology.
DC / Thomas Edison
Cumberbatch strives to showcase the visionary and pioneering inventor's pricklier nature, thirst for fame, and unwillingness to cooperate for the greater good, framing AC as an executioner with its links with the electric chair in order to increase the voltage of resistance against his rivals.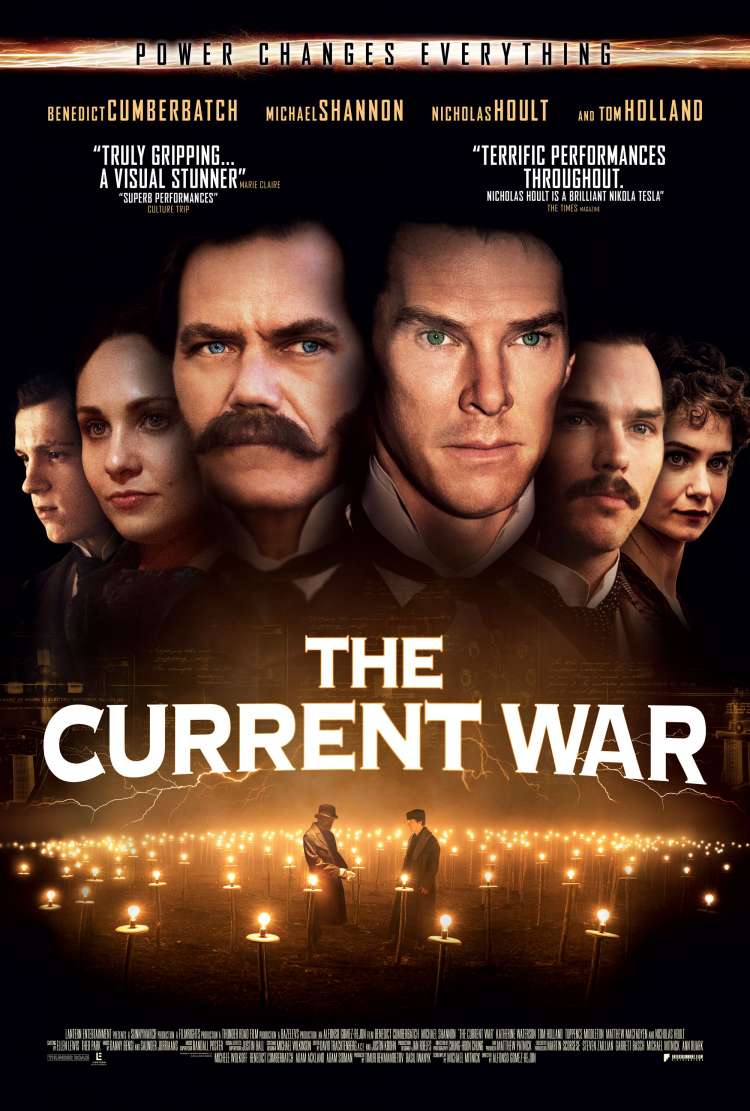 The Current War
Power Changes Everything
CLICK TO FIND OUT MORE
12A