Feature
Conquer The World
---
Travel back to nineteenth-century Europe – a time of revolution, romance, and war – to witness the rise of a ruthless army lieutenant in Ridley Scott's sprawling epic. Joaquin Phoenix is Napoleon.
Article Published on 26.10.2023
Words Jim Roberts
Napoleon Bonaparte. Ambitious visionary. Ruthless leader. Vile tyrant. A man history will remember as a nineteenth-century Caesar with plans for an empire of his own.
Now, his story is immortalised as acclaimed director Ridley Scott charts Napoleon's remarkable rise from Corsican military man to Emperor of France with Academy Award-winner Joaquin Phoenix as the complex and controversial figure at the heart of the story.
Napoleon's rise is bloody from the beginning. Witnessing Marie Antoinette put to the guillotine in revolutionary France, he exploits the ensuing period of unrest to seize power in a fascinating political play. His brilliant strategic mind becomes the basis for a sprawling, battle-filled epic that follows the Napoleon war machine through Europe. From Toulon to Italy, the pyramids of Egypt to the bitter chill of Austerlitz – and of course brutal battles with Britain, most notably at Waterloo – the film depicts some of history's most famous battles in full spectacular and savage style.
Yet despite all of his conquests, it's the private war he wages at home that may prove to be his downfall. Vanessa Kirby's glamorous Josephine changes the course of his life and this retelling of Napoleon's grand story is ultimately framed through their stormy romance and how their truly tumultuous marriage might be what puts an end to his dream of conquering the world.
Epic Storyteller
Ridley Scott is synonymous with cinema spectacle and Napoleon joines the ranks of his previous historical epic hits.
Gladiator
Scott entertained the entire world with his magnum opus starring Russell Crowe, Connie Neilsen, the late Oliver Reed, and of course Joaquin Phoenix. A highly-awaited sequel is slated for release in the new year.
Kingdom Of Heaven
Orlando Blookm, Eva Green, Liam Neeson, and co bring grand scale and panache to Scott's portrayal of the twelfth-century Crusades and Saladin's bitter siege of Jerusalem.
The Last Duel
Scott and a triumphant acting trifecta of Jodie Comer, Adam Driver, and Matt Damon bring the brutal true story of the last legally sanctioned duel in France to the big screen.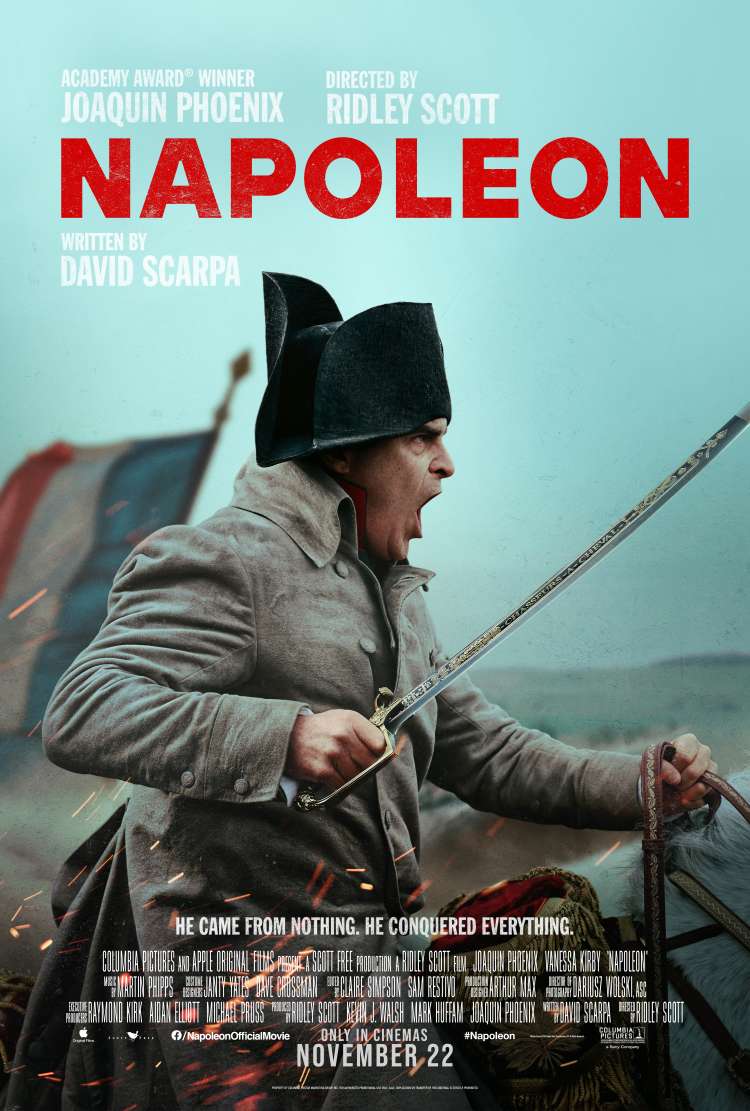 Napoleon
He came from nothing. He conquered everything
CLICK TO FIND OUT MORE
15