Feature
Enoy Your Stay
---
Los Angeles 2028 is a city of riots and destruction. Amid the chaos, the Hotel Artemis offers a very special service: a members only emergency-room for assassins and criminals.
Article Published on 09.07.2018
As Los Angeles is gripped by wildfires and the largest civil unrest in its history, at the Hotel Artemis, it's business as usual. A members-only hospital for the criminal underworld, Artemis operates in secret, in plain sight of the public.
For twenty-two years it has been untouchable, and the rules of the Artemis followed to the letter:
1) no disrespecting the staff
2) no killing other patients
But in a bank heist gone wrong, Waikiki (Sterling K. Brown) and his team steal from the wrong man, drawing the ire of psychotic crime lord The Wolf King (Jeff Goldblum). The hotel finds itself infiltrated and under siege, from both the police and The Wolf. High-octane, brutal action becomes the only thing on the menu at the Artemis, and as agendas collide, the rules will be broken.
Leading a stellar cast, mixing both Oscar pedigree and mountainous muscles, writer/director Drew Pearce is best known for penning Iron Man 3, but has also helmed a range of short films (including the Marvel one-shot All Hail the King). Artemis looks set to kick off an explosive new franchise.
Check Right In...
The Overlook (The Shining, 1980)
Creepy, vast, cold. The Overlook slowly sent Jack Torrance mad, and would become host to a slew of bloody murders.
The Continental (John Wick 1 & 2, 2014/2017)
Pit-stop for assassins, The Continental is neutral territory. Hitmen and murderers are welcome, but breaking the rules comes at a price.
Bates Motel (Psycho, 1960)
A backwater motel with very little of interest, except for the proprietor who happens to be a mentally deranged serial killer.
Hotel Rwanda (2005)
As hundreds of thousands die amid ethnic cleansing, the UN withdraws, leaving one hotel as the last point of refuge.
The Grand Budapest Hotel (2014)
A beautiful, sumptuous ski-resort nestled away in the Alps. No hotel in Hollywood history can match the Budapest for style, whimsey, or murderous intrigue.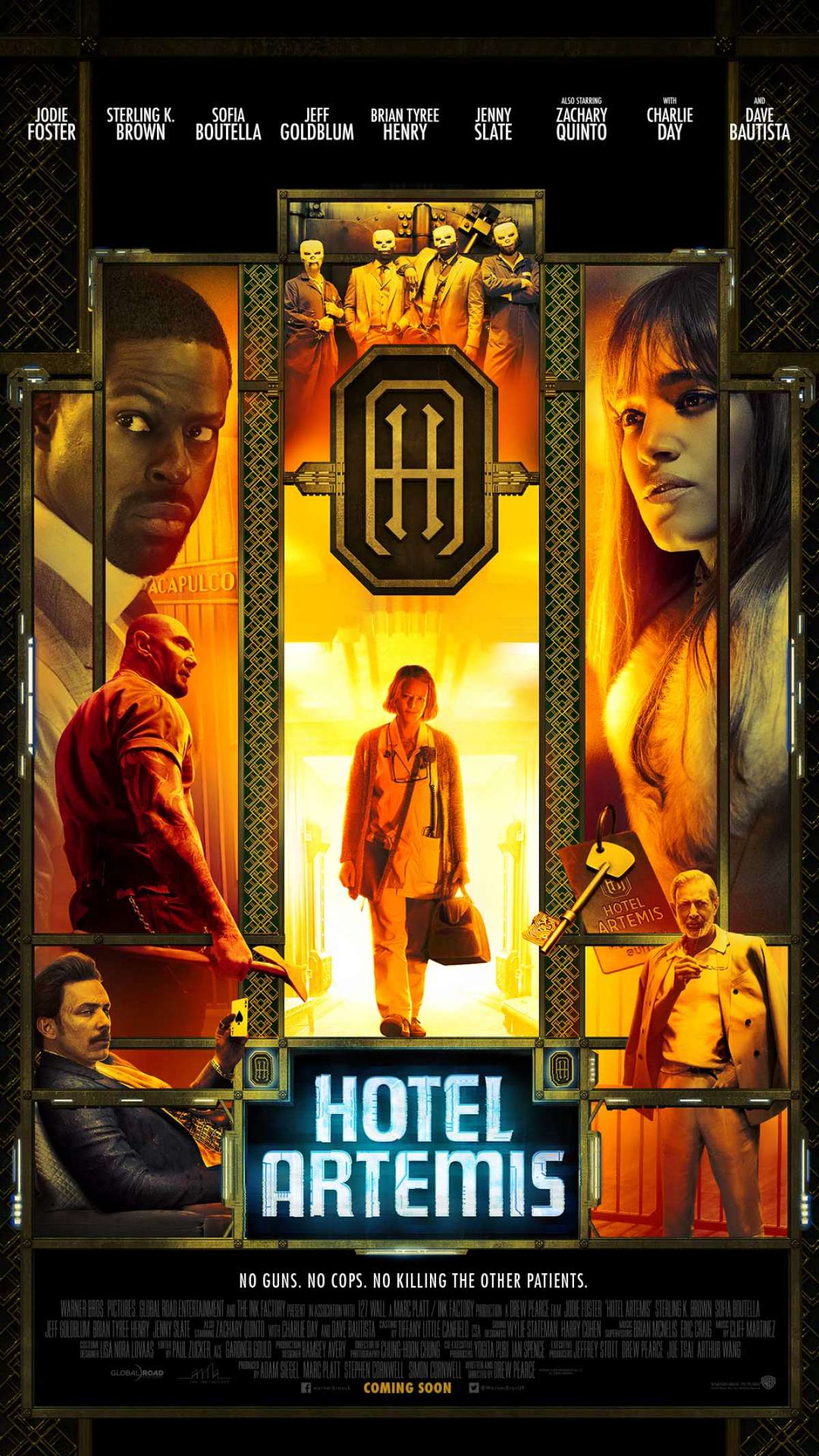 Hotel Artemis
No guns. No cops. No killing the other patients.
CLICK TO FIND OUT MORE
15