Feature
Out Of Time
---
Journey back to the dawn of time to join Dug and his tribe as they battle to save their home from a futuristic Bronze Age foe.
Article Published on 22.01.2018
From the ingenious creators of Wallace and Gromit, Shaun the Sheep, and Chicken Run comes a new animated adventure that will take film lovers back in time to a land filled with action, adventure, and prehistoric peril.
Four-time Academy Award-winning director Nick Park and Aardman Animations present Early Man, a cinematic journey to the dawn of time. Wooly Mammoths roam the earth, loincloths are the height of fashion, and rocks are plentiful. But a new day is dawning. The age of stone will soon crumble, replaced by a shiny new Bronze Age, and it's all thanks to the Mighty Lord Nooth and his followers.
Early Man's comedic tale follows Dug, a scrawny caveman with a big heart and can-do attitude. Alongside his trusty pet hog sidekick, Hognob, Dug must lead his tribe into the greatest fight of their lives against a seemingly insurmountable foe. As time marches on, Dug and his fellow tribe members are faced with the eradication of the vibrant valley that they call home. Lord Nooth has big plans for the area, most worryingly, using it to add to his growing collection of mines. Can Nooth's appetite for destruction be thwarted? Or will Dug and company be gobbled up by the hulking machinery devouring the landscape.
Aardman are no strangers to underdogs. The celebrated animation studio has won the hearts of countless cinemagoers both young and old with their cheery tales of unlikely heroes with big ideas. Whether it was Wallace and his ambition to journey to the moon in search of the universe's best cheese, or Rocky's feather-rustling attempts to fly the coop, the Bristol-based studio's celebrated storytelling and charming characters have become and irreplaceable part of British filmmaking and a beloved export around the world.
The dishevelled Dug may well be Aardman's pluckiest protagonist yet. To save his clan's way of life, he must travel to new lands and infiltrate the towering Bronze City that Nooth and his interlopers call home. Luckily not all of the leader's subjects are loyal, and the bewildered caveman may well have assistance from an unlikely ally. He'll certainly need help navigating the strange and "futuristic" city, and will have to immerse himself in their unusual activities - most notably, a love for football. The beautiful game may well decide Dug's fate, although he's never worn a pair of shoes, never mind laced up a pair of boots! Will he lead the tribe to victory or score a devastating own goal?
Aardman has grown increasingly star-studded over the years, and Early Man boasts the studio's most impressive ensemble cast yet. Oscar winner Eddie Redmayne steps into the role of Dug, Tom Hiddleston voices the ruthless Lord Nooth, and Maisie Williams (Game Of Thrones), Richard Ayoade, and Timothy Spall help create a truly unique and unmissable voice cast showcasing some of the best in British actors.
It's Stone Age versus Bronze Age in a fight for the ages, which is also suitable for all age, and fun for all the family. Expect an action-packed battle of wits, laughs, gasps, and when the dust settles, an unforgettable stop-motion adventure that will stand the test of time.
Join The Clan
Dug
The hero of the tale and his tribe's greatest hope! The challenges ahead will test Dug's faith in himself and friends to breaking point. Can he inspire them to achieve greatness beyond their wildest dreams?
Goona
Goona is a strong, outspoken woman, barred from fulfilling her dreams by the conventions of her world. This straight-talking Scandinavian breaks down barriers and proves she has a powerful sense of justice.
Bobnar
The loveable patient chief of Dug's tribe. Bobnar is more like a dad to the tribe than a chief, making sure they change their underwear and brush their teeth every day!
Hognob
Dug's stone-age pet hog and early man's best friend. Although he can't talk, Hognob is very communicative, managing to make his feelings known with an emphatic growl or a well-timed roll of his eyes.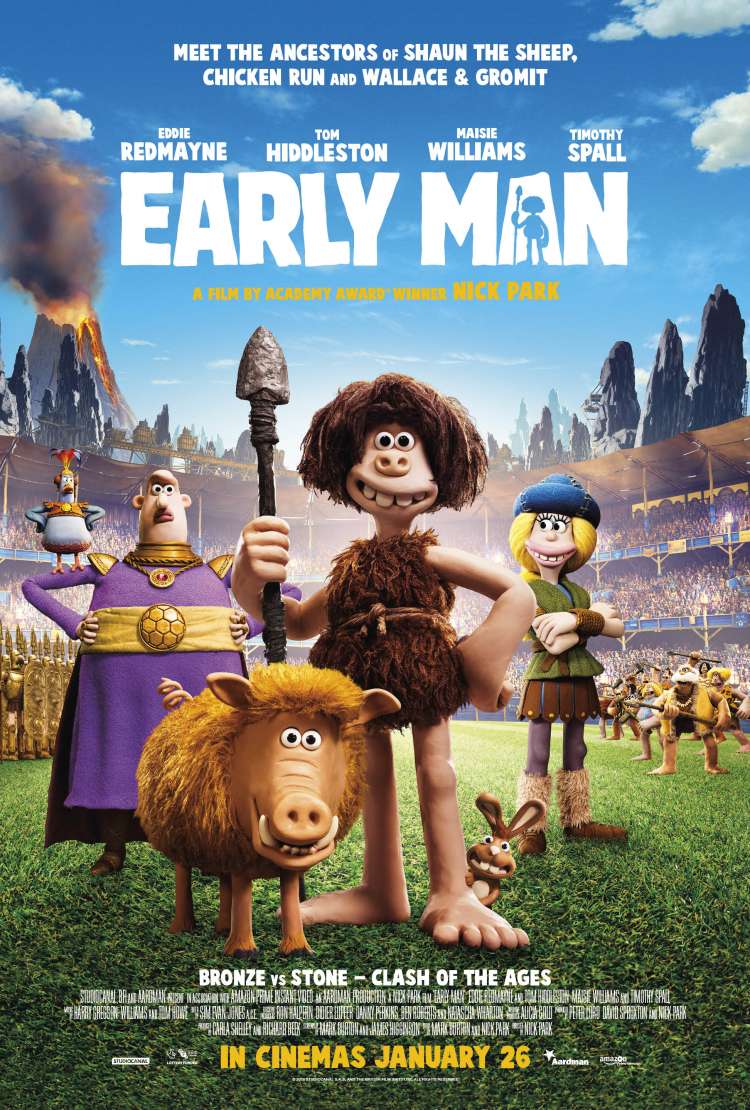 Early Man
Bronze vs Stone - Clash Of The Ages
CLICK TO FIND OUT MORE
PG