Feature
Breaking Good
---
The Big Bad Wolf and his criminal crew are famous for one thing: being bad. Yet, in DreamWorks Animation's new family comedy, The Bad Guys are turning good.
Article Published on 04.02.2022
Words Jim Roberts
Meet Mr Wolf, Mr Snake, Mr Shark, Mr Piranha, and Ms Tarantula, anthropomorphic animal criminals making a killing in a human world full of pockets to pick, people to rob, and fools to deceive. The unlikely posse have a CV packed full of Ocean's 11-esque heists that pay good. Real good.
Get a look under the hood of how these talented professionals operate as DreamWorks Animation brings to life, with distinctive comic-style visuals, Aaron Blabey's popular Scholastic book series of the same name. When the offenders are finally brought to justice and chucked in prison, Mr Wolf is forced to face reality and that, just maybe, they've taken the wrong path. After a revelation, he brokers a deal with cute, cuddly, but conniving guinea pig Professor Marmalade to gain parole for himself and his outlaw friends. In return, they must pull off the biggest con of their careers and trick the world into thinking they've turned good.
Yet, playing pretend, the crew begin to realise that being good could offer a better life. When a new villain threatens the city, The Bad Guys pull together and use all of the tricks of their trade to thwart them in a dazzling action-comedy with enough huff and puff to blow the whole family away.
They're The Bad Guys
Introducing the infamous fivve and the star-studded voice cast bringing them alive.
Sam Rockwell Is Mr Wolf
The super-cool Oscar-winner is leader of the pack: a handsome wolf and pickpocket supremo.
Awkwafina is Ms Tarantula
A prickly humoured spider hacker is voiced by the rising star who stole the show in Shang-Chi.
Anthony Ramos Is Mr Piranha
The Hamilton and In The Heights star plays the sharp-toothed and smart-mouthed Mr Piranha.
Craig Robinson is Mr Shark
The muscular master of siguise is matched with a comedy heavyweight best known for his roles in The Office and Hot Tub Time Machine.
Marc Maron Is Mr Snake
The stand-up comic seen in Netflix series Glow voices the crew's super-slick safe cracker.
That's not all!
Zazie Beetz, Lilly Singh, Alex Borstein, and Richard Ayoade are the scene-stealers rounding out the heist ensemble.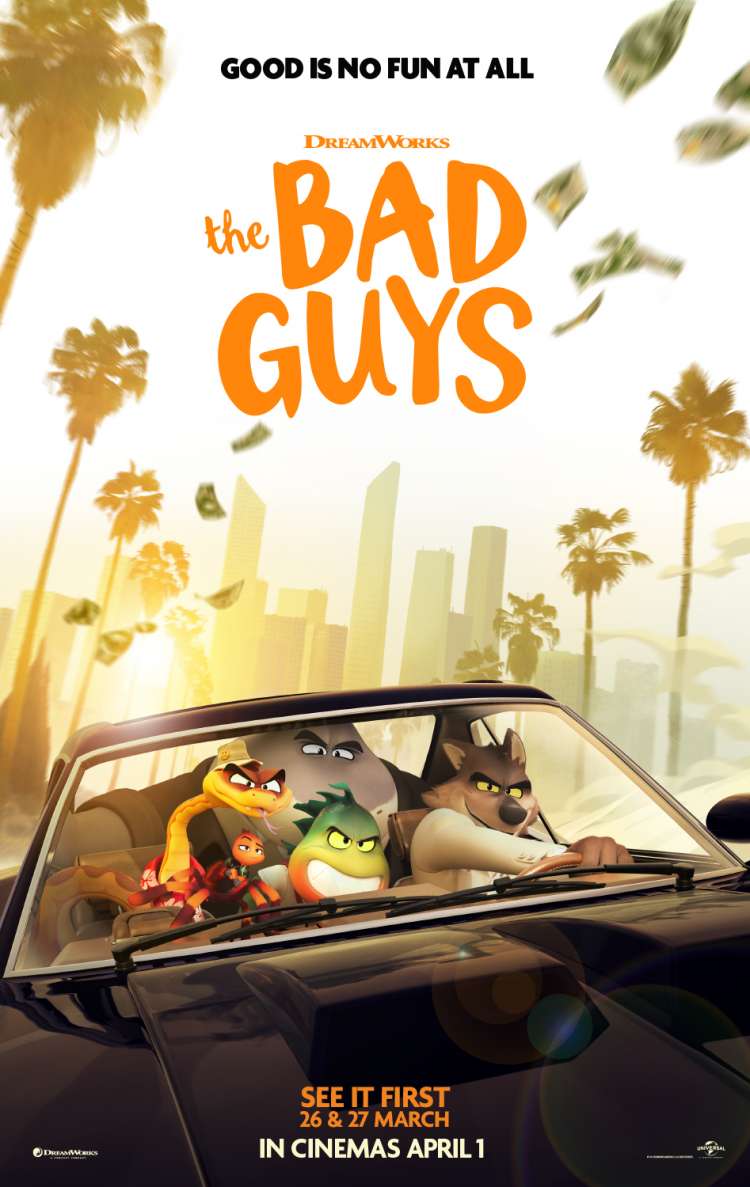 The Bad Guys
Good is no fun at all
CLICK TO FIND OUT MORE
U