Feature
Bad Boys
---
Jake Gyllenhaal and Yahya Abdul-Mateen II star as brothers in armed robbery who see their attempt at the greatest heist in LA history go horribly wrong in the new breakneck thriller from Michael Bay.
Article Published on 04.02.2022
Words Lee Curtis
He's best known for big-budget, high-concept blockbusters characterised by frenetic pacing, unmistakeable visuals, and extensive explosions – and he's back! Buckle up as Michael Bay returns with his fifteenth feature film.
Starring Yahya Abdul-Mateen II and Jake Gyllenhaal, Ambulance follows decorated veteran Will Sharpe who, out of desperation, reluctantly agrees to join his adoptive, career criminal brother Danny in an attempt at the biggest bank robbery in LA history, with a score of $32 million.
During the heist, everything's going according to Danny's grand plan until a young beat cop catches them in the act and triggers a city-wide response. Now, Danny and Will must abandon their plan and escape. But in their haste, they find themselves behind the wheel of the unlikeliest of getaway vehicles: an ambulance.
That's when the action and intensity hits top gear as the two brothers are thrust into a highspeed pursuit across the city where it's now not only their lives on the line, but the innocent paramedic and wounded police officer they've unintentionally taken hostage.
This all-new action-thriller is sure to bring every bit of its director's unique brand of "Bayhem" to the big screen, but Ambulance is also among Bay's grittiest and most grounded films too, and promises a super-stylish and truly unforgettable ride.
Best Of Bay!
As Ambulance speeds in to cinemas, we remember our five favourite Michael Bay movies in our rear-view.
Bad Boys
Will Smith and Martin Lawrence star in Bay's brilliant breakout – an all-action buddy cop comedy that's just as beloved as its bombastic sequel.
The Island
Perhaps Bay's most forgotten film follows Ewan McGregor and Scarlett Johansson's daring escape from a mysterious dystopian facility.
Transformers
Unlike its numerous sequels, the first Transformers film has as much heart as hard-hitting action.
13 Hours
Bay surprises us all when he scales back the "Bayhem" in an intense retelling of the real-life Benghazi attack on an American diplomatic compound in Libya.
The Rock
Nicolas Cage and Sean Connery make an unlikely double-act in another Bay buddy-cop movie of sorts and a definitive 90s actioner that delivers the very best of Bay.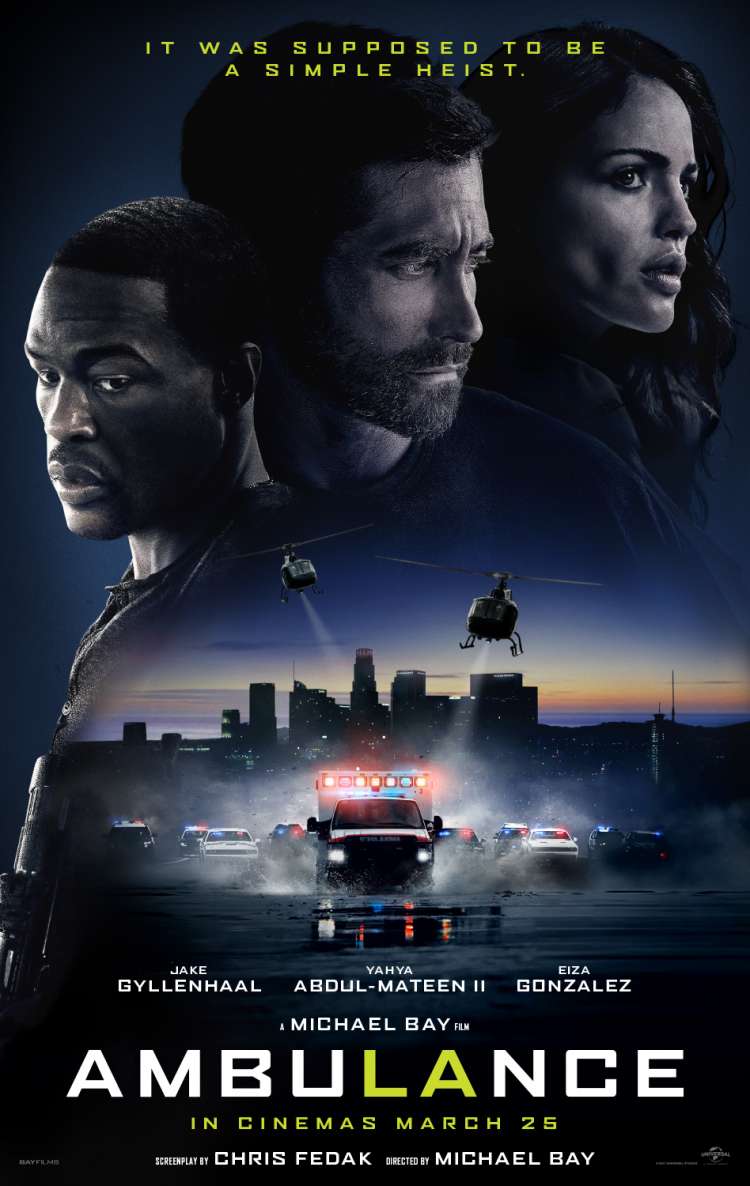 Ambulance
It was supposed to be a simple heist
CLICK TO FIND OUT MORE
15